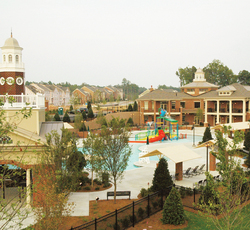 This is one of the most dynamic amenity centers we have ever designed, the timeless architecture and recreational activities for the residents will set Amberly apart from anything else in the Triangle market
Cary, N.C. (PRWEB) October 5, 2007
The Residents' Club at Amberly has officially opened at the Triangle area's best selling new home community.
Developers of the master-planned Amberly community hosted a luncheon on Thursday, Aug. 16 with community homebuilders, development partners and Town of Cary officials to celebrate the grand opening of the 19,000 sq. ft. residents' club.
"We have all been looking forward to this day since we first began planning Amberly," said David Guy, principal/partner of GS Carolina, Amberly's developer.
The celebration was capped off with the unveiling of The Essence of Amberly, a one-of-a-kind bronze statue design by renowned Cary sculptor Carl Regutti.
The Residents' Club at Amberly, designed by Basham & Lucas Design Group, Inc. of Jacksonville, Fla., provides a host of amenities that have never been available before in a Triangle area master-planned community.
Construction on the facility began in July of 2006. The two-story resident's club features two pools, a children's activity center, playground, sand volleyball court and large event lawn.
"This is one of the most dynamic amenity centers we have ever designed, the timeless architecture and recreational activities for the residents will set Amberly apart from anything else in the Triangle market," said Paul Basham, president of Basham & Lucas.
The Residents' Club includes a full-size, state-of-the-art gymnasium with six basketball hoops, a fitness room, aerobics room and locker rooms.
"The idea of a gymnasium was very appropriate considering the rich basketball heritage of the area," Basham said.
Amberly residents are also provided a one-of-a-kind opportunity through a partnership with UNC Health Care. Residents will now be able to participate in health and wellness activities designed and administered by an onsite UNC Health Care staff.
"The Residents' Club represents the core values that the community is centered around: environment, technology, wellness and education," said Guy. "The Club was built to enhance the lives of residents and become the center of activity at the community."
The Residents' Club at Amberly also features: An aquatics facility containing a 9,600 sq. ft. fun pool with a two-story slide tower, an island in the center of the pool for sunbathing and a wading area for children with a large tipping bucket and spray feature; A six-lane Jr. Olympic lap pool over 4,900 sq. ft. with an adult leisure area nearby; a 20,000 sq. ft pool deck surrounding both pools with lounge chairs and six shade structures; an event lawn for parties and activities with two large shade structures.
About Amberly:
Amberly is situated on the western edge of Cary, NC, one and a half miles southwest of the Research Triangle Park, and is located just off Highway 55. The community spans 1,100 acres and includes approximately 5,000 homesites. The Residents' Club at Amberly features programming and staffing provided by UNC Health Care, and the community will also feature UNC Health Care's UNC Wellness Center at Amberly. Amberly is the first North Carolina development to contain an Active Adult neighborhood integrated within a mixed-use community. Amberly is an L.M. Sandler & Sons Inc. development, and is managed by GS Carolina. For more information, call 1-877-4AMBERLY (1-877-426-2375) or visit http://www.Amberly.com.
About Basham & Lucas Design Group:
The 2007 winner of the Grand Special Judges Aurora Award, Basham & Lucas Design Group is a professional design firm specializing in land planning, architecture, landscape and signage design for resorts, master planned communities, urban mixed use town centers, entertainment venues, theme parks and many other unique projects that demand the interaction of all design disciplines. For more information, visit http://www.bashamlucas.com.
# # #