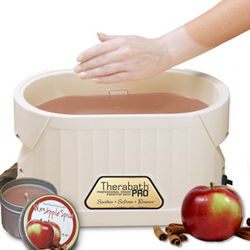 The fall inspired scent encourages users to indulge in the delectable scent of juicy apples, fresh spices and a hint of pear
Stillwater, MN (PRWEB) October 3, 2007
Therabath® Paraffin Products, a division of WR Medical Electronics Co., has launched new Warm Apple Spice refill Paraffin in easy-to-use wax beads. "The fall inspired scent encourages users to indulge in the delectable scent of juicy apples, fresh spices and a hint of pear," says Marketing Manager Elisabeth Thorn. The refill paraffin resembles apple cider and is available in 2lb, 6lb and 24 lb sizes. The paraffin also features dashes of clove and cinnamon Lotus Touch® Essential Oils. A perfect pairing with our new Warm Apple Spice fragrant 4oz hand-poured soy candle, free to the first 100 people who order from Therabath.com.
Paraffin Therapy has been used effectively for decades to provide an alternative, non-invasive approach to easing muscle and joint pain or stiffness. The process of dipping a hand in the paraffin and removing it quickly prompts the wax to form a soft, supple glove on the hand. A person's perspiration is brought to the surface of the skin and pores are opened leaving the skin soft and moist. The increase in blood flow also brings beneficial nutrients to the skin and may help aid in healing.
Lotus Touch, a subsidiary of New Life Systems (Minnetonka, MN), is a professional-only manufacturer of massage, body care and aromatherapy products for the massage, spa and wellness industries. Lotus Touch was founded in 1999 in response to customer demand for nut-oil free massage products. The line was launched with 5 products and in the past 6 years has blossomed to over 250. The latest innovation from Lotus Touch is Organic Naturals; massage products formulated with certified organic ingredients to meet customer demand for natural, organic products. For more information, contact Allan Share, CEO at abs(at)lotustouch.com or 800-852-3082.
Therabath has been providing professional quality paraffin baths, refill paraffin and accessories since 1962. The Lifetime Guaranteed Therabath®PRO® professional unit is the industry standard for quality and is manufactured in Stillwater, MN under ISO 9001:2000 and ISO 13485:2003 standards.
###