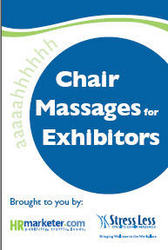 We're happy that we can offer a way for exhibitors to unwind from their hectic expo schedules, thanks to our partnership with Stress Less On Site Chair Massage
Capitola, Calif. (PRWEB) October 3, 2007
HRmarketer.com will ensure a relaxed environment for attendees of the upcoming HR Technology Conference and Exposition in Chicago, Illinois. The marketing and PR membership service provider will offer free chair massages for all exhibitors, and will sponsor the exhibitors' lounge at the October 10-11 expo. The company is also exhibiting and can be visited at booth #1708.
HR vendors are encouraged to visit the booth and register for a contest to receive a free 10'x10' booth at the 2008 HR Tech Conference courtesy of HRmarketer.com; winners will be drawn from vendors who receive a demo and purchase an annual membership by December 1, 2007.
HRmarketer staff will be onsite to discuss HRmarketer.com's expanded marketing and media visibility features for companies that supply to HR and benefits professionals. Nearly half of the exhibitors at HR Tech subscribe to HRmarketer's membership service to support their internal marketing and PR efforts; many also utilize the HRmarketer Services Group for outsourced media relations and online marketing.
The company's burgeoning array of services includes search engine optimization (SEO) campaigns, content development for both media relations and online marketing, and development of Web 2.0 strategies and tactics that often use blogs and podcasts. Since the launch of the provider's SEO and media visibility services in 2005, the company has experienced record growth, including a 100% increase in services revenue across the past three years.
"We're happy that we can offer a way for exhibitors to unwind from their hectic expo schedules, thanks to our partnership with Stress Less On Site Chair Massage," explained Jonathan Goodman, vice president of business and membership development at HRmarketer.com. "We're eager to share how vendors can generate increased online publicity, sales leads, and drive traffic to their Web site via both the HRmarketer annual membership service and our Services Group."
For years, HRmarketer has pioneered the use of a blended approach to marketing and PR campaigns - turning two traditionally separate functions into one united front. HRmarketer employs marketing and media relations tactics that support measurable marketing objectives such as online publicity, Web site traffic, lead generation and traditional PR metrics such as print and online media placements.
Like consumers, HR and employee benefit buyers increasingly turn to the Internet when researching new products and services. Their first stop is typically a major search engine, and how high a company ranks in the search results can be the difference between making an RFP list or not. When B2B buyers search the Internet, search-optimized press releases are designed to appear when relevant search terms are entered.
Since its debut in 2002, over 500 human resource suppliers have used HRmarketer.com to generate publicity, website traffic, sales leads and improved SEO for their company, making HRmarketer.com the most popular marketing and public relations service in the human resource industry.
Fisher Vista, LLC, who owns HRmarketer.com, plans to launch a similar marketing service in the senior care market in early 2008.
About HRmarketer.com
Our services help HR suppliers generate publicity, website traffic, sales leads and improved search engine rankings. Services include:
HRmarketer.com Membership: Combines database of marketing and public relations (PR) opportunities with press release distribution, campaign management, social networking services.
HRmarketer Services: Leveraging our HRmarketer.com service and our HR marketplace expertise we offer HR suppliers a full range of Internet marketing, marketing PR, search engine marketing and SEO services.
This press release was distributed through eMediawire by Human Resources Marketer (HR Marketer: http://www.HRmarketer.com) on behalf of the company listed above.
###