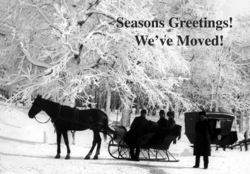 Our customers have been enjoying Flashcards postcards and greeting cards all over the world for more than a quarter century, and we're pleased to now make them available as Holiday Change of Address cards
Kissimmee, FL (PRWEB) October 8, 2007
Flashcards, Inc. is now shipping customized postcards and greeting cards for customers who are changing their mailing address during holidays and are looking for a unique, personal, and humorous way to send holiday greetings to inform their friends and family of a change of address.
Moving during holidays? Send a holiday greeting along with your new address information. An important part of moving is to notify friends, family and contacts of a new mailing address along with Christmas cheer. Normally people move to a new location due to job changes, family changes or other life events that will necessitate a move. One of the most important tasks when moving, often forgotten until it's too late, is to tell people where you're moving to.
First notify the post office of the address change. Pick up a change of address form from the local post office or online at http://www.usps.com . In our fast-paced society, simply sending friends and family an email is not enough. Next get everyone who sends mail to change your address in their address books. An excellent way to get attention is by sending an Address Notification Postcard or Greeting Card with Seasons Greetings or a Christmas Cheer via mail. Postcards are an inexpensive way to let everyone know a new address. Mail a postcard via First Class Mail, just 26 cents. Greeting cards, with an envelope, offer more privacy for intimate sentiments. Mail new address greeting cards for 41 cents.
"From animals to kids to humor, we offer more than a hundred cards to choose from. Our cards can be customized with your new address information, including your email addresses and new phone numbers and a brief holiday message. There are no minimums and postcards and greeting cards normally ship within one business day." said David Lenz, Flashcards Founder and President. "Our customers have been enjoying Flashcards postcards and greeting cards all over the world for more than a quarter century, and we're pleased to now make them available as Holiday Change of Address cards,"
Holiday change of address postcards and greeting cards are available online at http://www.flashcardspostcards.com/holidaymovingcar.html .
About Flashcards:
Flashcards, Inc has been selling humorous and eye-catching postcards and greeting cards worldwide since 1980. For more information or to place an order, visit http://www.flashcardspostcards.com or call toll-free 1-800-531-0777.
###