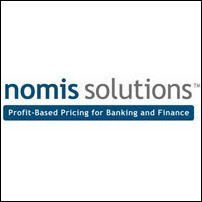 Using a Data-Driven View of the Customer to Improve Portfolio Performance.
London, UK (PRWEB) October 10, 2007
Nomis Solutions, the leader in Profit-based Pricing for banking and finance, today announced the completion of its 2nd Annual European Profit-Based Pricing Forum. The invitation-only, two-day forum provided the top pricing, product management, and profitability executives from the world's leading banks and finance companies with an understanding of how Profit-based Pricing can help acquire customers, retain existing customers, differentiate from the competition, support regulatory compliance, and upgrade pricing practices and processes.
Global economic trends and pricing best practices are driving the rapid adoption of Profit-based Pricing, a more strategic, efficient and customer-centric approach to pricing. This year's Forum attracted a record number of attendees, including representation from Abbey, Barclays, Bradford & Bingley, CitiGroup, GE Money, HBOS plc, Lloyds TSB, National Australia Bank, Nationwide, Raiffeisen International and Royal Bank of Scotland.
David Smith, economics editor at The Sunday Times, delivered a timely presentation on day one of the conference about the current credit crunch and explained its impact on banks in the United Kingdom. Lawrence Whittle, managing director, Europe, and vice president, international at Nomis Solutions focused on the benefits of Profit-based Pricing, including improved financial performance, insights about customer preferences, and the ability to support compliance initiatives such as TCF (Treating Customers Fairly).
Ralph Silva, senior analyst, European Banking & Payments, TowerGroup, kicked off day two of the Forum by discussing how Profit-based Pricing is the first step towards achieving a Relationship-based Pricing approach. Wachovia's Senior Vice President, Strategic Pricing, Lars Tonnesen and Michael Alcione, Pricing Strategy and Analytics Consultant, shared their experience implementing a pricing optimisation solution and explained how this initiative fits into Wachovia's overall pricing strategy and commitment to delivering an exceptional customer service experience.
Mr. Silva stated, "Pricing optimisation provides bank executives with a new level of understanding about their customers' preferences for their products. This understanding can be used in the short term to better tailor prices to customer needs. The next step is to use this information to better segment customers and better tailor prices to these more specific needs. The ultimate goal is to use it to enable the offering and pricing of products based on a holistic understanding of the customer."
Mark Pearson, former head of brand and customer insight at Egg, explained the three keys to creating profitable partnerships with customers including research, analysis and segmentation. Martin Hall, former director general of FLA (Finance & Leasing Association) discussed how banks can achieve profitability while supporting compliance efforts. Dr. Robert L. Phillips, founder, chief science officer and vice president of research and development delivered a presentation titled, "Using a Data-Driven View of the Customer to Improve Portfolio Performance."
To conclude the second day of the Forum, featured speaker, Alistair Newton, research director of the banking and investments practice at Gartner, presented "Optimise Now!", which revealed the findings of a recent study (Source: Gartner, Gartner Financial Services Technology Summit, "Optimize Now!" August 27-29) that found that 75% of banks expect to be using a pricing optimisation solution by 2012.
Those interested in learning more about Profit-based Pricing are encouraged to attend the 3rd Annual IQPC Pricing Optimization for Financial Services Conference, which takes place December 3-5, 2007 at the Sonesta Hotel & Suites in Coconut Grove, FL. Chaired by Dr. Robert L. Phillips, founder, chief science officer and vice president of research and development at Nomis Solutions, the conference will provide guidance to banks about how they can strategically use pricing to uncover new opportunities in the volatile lending environment.
About Nomis Solutions
Nomis Solutions is the recognised leader in Profit-based Pricing for banking and finance. Powered by price optimisation technology, Profit-based Pricing is an innovative approach that enables executives to strategically use pricing to achieve improved financial results, gain insight into customer preferences, and support compliance. The award-winning Nomis Price OptimiserTM Suite is a set of business solutions that combines pricing analytics, optimisation, and execution into a comprehensive pricing strategy and process.
The suite includes specific solutions for personal lending, motor finance, mortgage, cards and deposits. Each solution delivers quick time-to-benefit, increases profits and market share by 10-20%, and provides valuable insights about how customer preferences impact product and portfolio performance, within a strong compliance framework. Select customers include Abbey, AmeriCredit, Ford Motor Credit Company, GE Money, HBOS plc, and WaMu. Nomis Solutions is headquartered in San Bruno, CA, USA, and in London, United Kingdom. Visit http://www.nomissolutions.com or contact us at info(@)nomissolutions.com or +1 44 2070318274.
Nomis Solutions and the Nomis Price Optimizer Suite are trademarks or registered trademarks of Nomis Solutions, in the United States and in other countries. Other product and company names herein may be the trademarks of their respective owners.
###