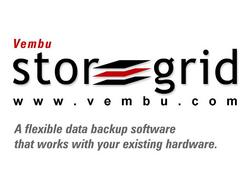 We could not have anticipated this level of interest in Vembu and StoreGrid; it has been simply phenomenal and we are extremely pleased to have so many partners on board. They are our route to market and each one of them has unique strengths that allow us to be deployed in companies of different sizes, in different markets
Chennai, India (PRWEB) October 12, 2007
Vembu Technologies, a fast-growing provider of backup and storage solutions for Service Providers and Remote & Branch Offices (ROBOs) today announced that thanks to a dramatic response to its latest version of StoreGrid Service Provider Edition, the Company has signed up its 400th partner worldwide. Among the recently-acquired partners are Full Circle and The Backup Plan in the USA, SAMNS and Toggle Networks in Canada, Compu-fix and Eyre Solutions in the UK and Digital Information in Sweden.
SAMNS (Security Audits & Managed Network Services), the organization behind the DataCrypt Online Backup Services, bases its offering on Vembu's StoreGrid: "We were looking for a backup solution that would allow us to significantly minimize the administration and over-heads required to serve each one of our customers. To this end we needed an effective, reliable and affordable product to manage our clients' data backups, which all take place on our servers and storage. Vembu Technologies met and exceeded all our expectations. From an impressive cross-platform solution to best-in-class customer support, Vembu delivered it all!"
StoreGrid's Service Provider Edition, targeted at Service Providers offering Online Backup Services to SMBs supports any form of disk-to-disk (D2D) backup and allows Service Providers to backup their customers' workstations and servers to a remote backup server managed by the service provider. In addition to common user data, StoreGrid supports backups for Microsoft Exchange Server, Microsoft SQL Server, MySQL, and Active Directory/System State. The powerful server replication functionality ensures easy data restores in case of a major data loss occurrence, and also facilitates staged backup solutions wherein offices can backup to a server in their internal network and selectively replicate data to an off-site server.
Today Vembu counts customers in countries such as the USA, Canada, the UK, Poland and Sweden. Spanning a number of different industries including media, web-hosting and education, Vembu's users include:

the Canadian Sub-Surface Energy Services (Canada)
the Orange County Government Online (USA)
the Virginia National Bank (USA)
the Georgetown University Medical Center (USA)
iTransact (UK)
Itineris (UK)
Designsmart (UK)
OMD (Poland) and
the Institute of Automation in Brehmen (Germany).
"We could not have anticipated this level of interest in Vembu and StoreGrid; it has been simply phenomenal and we are extremely pleased to have so many partners on board. They are our route to market and each one of them has unique strengths that allow us to be deployed in companies of different sizes, in different markets," said Bhavdeep Oberoi, VP of Business Development at Vembu. "Our partners choose StoreGrid because it allows them to generate highly attractive profits without the management efforts that other data protection products tend to demand."
Organisations interested in deploying or reselling Vembu Technologies' StoreGrid should visit http://www.vembu.com/storegrid/remote-backup.html
About Vembu Technologies
Founded in 2004 Vembu Technologies is a fast-growing provider of innovative backup and storage solutions to Service Providers and Remote & Branch Offices (ROBOs). Vembu's flagship product StoreGrid is a flexible, feature-packed data backup software ideal for heterogeneous environments. While Service Providers deploy StoreGrid to offer their small and medium customers a powerful managed online backup solution, organizations with distributed offices rely on StoreGrid to manage their data backup requirements across geographically-dispersed sites. Vembu Technologies is headquartered in Chennai, India. For further information please visit http://www.vembu.com or contact +1 432 614 0198.
# # #