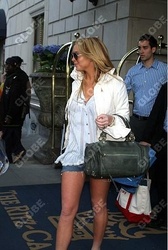 Los Angeles (PRWEB) October 14, 2007
What do Lindsay Lohan and Hayden Panettiere have in common? Besides blonde locks, celebrity status and a penchant for paparazzi, both Hayden and Lindsay have been spotted toting their favorite new handbag: the "Morning After" Bag by Rebecca Minkoff.
Lindsay prefers the large black Morning After Bag which she has been carrying all over Utah since her release from rehab. Perfect for day or night, this bag is the essential city slouch bag to sling on your arm or shoulder. The "Morning After" bag has two zipper pockets and enough space to fit everything you need for the night before - or the morning after.
Following in the older starlet's footsteps is Hayden Panettiere. She's chosen lately to accessorize with Rebecca Minkoff's "Morning After Mini" bag. This Rebecca Minkoff style offers the same style as the original "Morning After" bag with a slightly smaller size. Hayden has also been spotted around Los Angeles carrying the Rebecca Minkoff "No Strings" clutch. Other fans include Rachel Bilson, Bijou Philips and Hilary Duff. Rebecca Minkoff's collection is available in fine stores such as Bloomingdales, Nordstrom and Neiman Marcus.
###