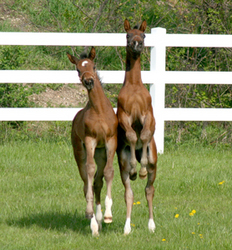 Through USHorse.biz, I was able to create a web site for our business without a huge amount of time and expense.
Carson City, NV (PRWEB) October 16, 2007
USHorse.biz, a one-stop equine web portal, announced today a new offering: custom websites designed to be user-friendly and budget-friendly. "I never thought a custom website could be so easy and affordable," says Tabitha Knaub, of LASaddlery. "Through USHorse.biz, I was able to create a web site for our business without a huge amount of time and expense."
"Whether you're a large-scale breeding facility, a small tack shop, a local horse rescue group or a single riding instructor, you can establish a high-impact Internet presence using our custom web sites," says CEO Judy Walker. "Now even traditional equine businesses have a means of reaching online shoppers." In addition, the USHorse.biz web portal enables users to post free listings, access powerful search engines and receive 24/7 web support. Prices for USHorse.biz web sites range from $49.95 per month for a web page and $99.95 per month for a custom web site.
The USHorse.biz web portal also offers free access to employment listings, horse sales, horse photo galleries, news on industry tradeshows, details on equestrian suppliers, products services and events, and related equestrian links.
To find out more about custom web sites and other online services available through USHorse.biz, visit http://www.ushorse.biz.
About USHorse.biz, Inc.:
USHorse.biz, Inc. is a privately held corporation. CEO Judy Walker, an art director with 25 years of experience in graphic design and illustration, and was one of the original partners and developers of The Equestrian News of Southern California. CFO Patricia Kinnaman, an early promoter of dressage on the West Coast, has organized numerous Southern California equestrian events, including those for the1984 Summer Olympics in Los Angeles. Ms. Kinnaman is owner of Dominion Saddlery and the Traditional Equitation School, a British Horse Society Certified riding school at the Los Angeles Equestrian Center. Director Peter Saxon and his colleagues at http://www.ClearImaging.com spearhead the technology division of USHorse.biz, lending significant technology expertise to a full range of custom design and programming services for all facets of digital media.
###