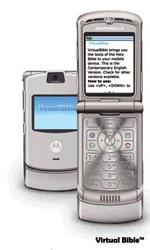 Moscow, (PRWEB) October 17, 2007
ChristianMobile, creators of VirtualBible™, the first ever book delivered to a mobile phone by way of a premium sms-text message, facilitated the implementation of the Russian Bible Society Mobile Phone Bible download service in Russia.
The service enables pre-paid and contract mobile phone subscribers across Russias' largest mobile carriers MTS, Beeline, Megafon, Tele2, SMARTS, Astrahans GSM, Yaroslav GSM, MOTIV and NTC to purchase the Bible via sms-text and download the full Bible on their mobile phones. Users in Russia can simply send an sms-text with the word SYN1 for the Contemporary Russian Version or SOV1 for the Russian Synodal Version of the Bible to 6969 at a cost of 140 Roubles to download the full Bible.
'We expect demand for VirtualBible™ to come mainly, but not exclusively from young people for whom accessing information of all kinds on their mobiles are as normal as making a phone call. The mobile phone is an excellent tool to spread the Gospel. Mobile phone technology is the fastest growth of technology ever witnessed in the world. It took close to 12 years for the industry to reach the first billion mobile connections; the second billion was achieved in just over 2 and a half years. Russia is an important market for us with a large Christian population and a total number of 161.8 million mobile phone subscribers. We see ourselves mainly as an instrument in God's hands, to bring the Gospel to all corners of the world and to make a difference in society. We are expanding rapidly into various territories across the globe and will soon, in addition to a number of Bible translations already developed also offer an array of popular Christian books for download onto the majority of mobile handsets in the market', said Bertus Preller Marketing Executive at ChristianMobile.
About the United Bible Societies
The Russian Bible Society is a member of the United Bible Societies a world fellowship of national Societies. Each Society is rooted in the life of its own people and churches. A national Bible Society is a non-denominational organization whose purpose is to translate, produce, and distribute the Christian Scriptures in languages that people can understand at prices they can afford. In 1946, delegates from 13 countries met in England where the United Bible Societies (UBS) was founded. UBS had grown into a family of 141 national Bible Societies working in more than 200 countries and territories. For further information go to http://www.biblesocieties.org.
About ChristianMobile
ChristianMobile™ is a leading developer of WAP applications and distributor of mobile content for the Christian community. ChristianMobile™, founded during August 2004, was the world's first Christian mobile content subscription service and is based in Cape Town, South Africa with partnerships across the globe. ChristianMobile™ is the mobile applications developers of 141 Bible Societies accross the globe and distributes mobile content such as ring tones, a wide variety of Christian wallpapers, animations and daily inspirational services such as devotions, prayers, verses, quotations, music videos and the Bible and pioneered the development of VirtualBible™ on mobile phones, the first ever commercially available java format of the Bible delivered by premium text/sms to a mobile handset. ChristianMobile™ also pioneered the launch of the world's first Christian mobile chat application CmChat™, the world's first Church direct to consumer white label mobile solution CellVation™ and the world's first book preloaded on a mobile phone memory card. ChristianMobile has been at the forefront of developing books in java format and is in the process of developing a wide variety of books for some of the world's largest book publishers for mobile phones. For further information go to http://www.christianmobile.co.za; http://www.christianmobilerussia.com; http://www.christianmobileusa.com; http://www.christianmobileau.com or on mobile phone browser to http://wapbibles.com.
For further information, please contact:
Bertus Preller, Marketing Executive International Business
Absolute Mobile (Pty) Ltd t/a ChristianMobile™
Tel: 27 21 5283000
###