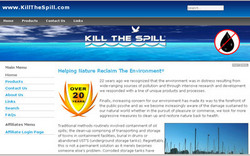 (PRWEB) October 16, 2007 -
Protecting the earth is an escalating issue for both consumers and retailers. It is increasingly hard to find products that are not only environmentally friendly, but actually help safeguard the wellbeing of the earth. Kill The Spill, a socially conscious company, releases an innovative line of marine products that break the barrier of oil cleanup and pollution by utilizing proprietary formulas that actually breakdown the hydrocarbon molecules found in fuels and oils.
Kill The Spill, a company of The Enviromonde Network (TEN), offers revolutionary environmentally friendly products for marine, rivers, and lakes. These environmental marine products are derived from remediation technology, and projects involving hydrocarbon contamination cleanup. By removing these pollutants or contaminants from water, soil, surfaces, and under permanent structures, Kill The Spill has been able to create environmentally responsible solutions for boaters and marina operators at an affordable price.
These unique marine products are not only effective, but are easy to use. These products, when used as directed, genuinely meet the standards and completely comply with the criteria established by the Clean Marina Program and other jurisdictional regulatory bodies, thus eliminating dangerous and costly consequences and fines. Consumers can now choose to become an active participant in the prevention of the adverse impacts to water quality, sensitive habitats, and natural resources.
Company spokesperson, Charles S. Frazier explains, "Preventing environmental contamination is a consumer responsibility. With our affordable and easy to use marine cleaning and contaminant eliminating products, excuses are a thing of the past."
Kill The Spill understands that social responsibility does not solely lie in the hands of the consumer. Frazier continues, "Retailers also need to realize that it is their duty to become socially conscious and driven. For over 22 years, at The Enviromonde Network, we have had the dedication, staying power, and foresight to develop products that address a wide range of environmental issues. For example, our bilge and bilge pump cleaning product is eco-friendly and eliminates or significantly reduces bilge waste contamination."
With safety being a prime concern, Kill The Spill's Fuel and oil spill eliminator product neutralizes gas spills and fuel leaks that occur at marinas. Acting as a preventative fire measure, this innovative product eradicates the ignition threat upon contact instead of simply containing the damage. All Kill The Spill's products not only adhere to the Clean Mariana Program and Boaters Guide, but break the mold of oil and bilge waste contamination and safe deck and hull cleanup.
To learn more about non-toxic and biodegradable marine products, please visit KillTheSpill.com.
About Kill The Spill:
Formed between 1984 and 1994, the EnviroMonde Spilltech Network was established to beta test, produce, and market the innovative EnviroFormulae family of products and processes. The Kill The Spill product line was developed in 2004 and now the total knowledge base of Enviromonde is shared with The Enviromonde Network (TEN). The companies, partners, and affiliates span across the United States, Canada, Mexico, Chile, Brazil, Morocco, Tanzania, Egypt, and the British Isles.
###