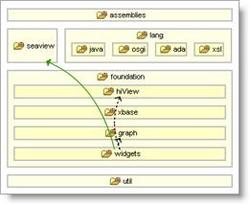 We are very impressed with the latest release of Structure101. It has allowed us to improve the quality of the architecture reviews we do for our clients, but most importantly for them and us we have been able to achieve this in a shorter time frame
Waterford, Ireland (PRWEB) October 17, 2007
Headway Software releases Structure101 for Java Version 3 - the world's first complete software architectural control solution. With this major upgrade, software architects specify constraints on the composition and layering of a code-base using intuitive block diagrams. These architecture diagrams are immediately communicated to the whole development team through IDE plug-ins and HTML. Developers are warned whenever they make code changes that are inconsistent with the specified architecture. Reports and RSS feeds warn project managers and architects when violations make it into a build.
"I love the new architecture diagrams. With them we are able to define our architecture standards and enforce them during design and construction. As a Chief Architect who is responsible for overall design and system architecture, this capability is a great value-add to an already fantastic product," Joong Lee, Chief Architect, EPL, the leading Credit Union Solutions Provider.
"In V2, the focus was on understanding how your code is structured today, and where it is tangled or overly complex. V3 takes it to the next level, letting architects define how the code should be structured and communicating this to the team so they can actually make it happen" explained Headway's CEO, Chris Chedgey.
"We are very impressed with the latest release of Structure101. It has allowed us to improve the quality of the architecture reviews we do for our clients, but most importantly for them and us we have been able to achieve this in a shorter time frame," said Alef Arendsen, Vice-president, Interface21.
Structure101 V3 extends the product as follows:
1. A new "architecture" perspective in the Structure101 client can automatically create architecture diagrams from code, supports interactive editing of diagrams, allows architectural elements to be mapped to the physical code, and immediately show where the physical code breaks the architectural constraints.
2. New Structure101 Eclipse and IntelliJ plug-ins make the project architecture diagrams visible to each developer and warns them when they make non-conformant code changes.
3. The updated Structure101 web application makes the architecture diagrams visible in a web browser, and provides RSS alerts when new violations make it into the project mainline.
A free trial of Structure101 V3 for Java can be downloaded from http://www.headwaysoftware.com/downloads.
An online presentation giving an overview of Structure101 V3 for Java is available from http://www.headwaysoftware.com/products/structure101/demos/v3-overview.html.
Further Media Information:
Paul Hickey for Headway Software
Tel +33 6 18 51 23 85
Email: paul.hickey(at)headwaysoftware.com
http://www.headwaysoftware.com
Headway Software is the first independent software vendor to focus purely on software structure, a fundamental tenet of building maintainable and extensible software. The company's structure101 products use advanced static analysis and reverse engineering techniques to analyze and measure excessive structural complexity for Java (C++ to follow soon). Based in Ireland and France, Headway Software is independently owned and operated. Customers include Avaya, EMC, Groupe Bull, HP, Intel, L3 Communications, Nokia, SonyEricsson, US Air Force, US Navy, NASA, BAE Systems, General Dynamics, Lockheed Martin, Northrop Grumman, Raytheon, Thales, European Space Agency, European Commission, CapGemini, Tietoenator, Deutsche Telecom, Delta Airlines, IONA, Symantec, Expedia, Eloan, HBO, Readers Digest, Thomson, Barclays, Bank of America, Credit Suisse, Wells Fargo and ZKB.
Headway Software's CEO, Chris Chedgey, blogs about agile development, dependency management, software architecture / design / structure, and managing software complexity at http://chris.headwaysoftware.com.
###