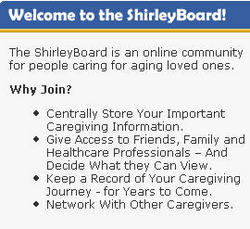 Care Options for Your Aging Loved One: How to Make the Right Decisions.
Santa Cruz, CA (PRWEB) October 18, 2007
Choosing the right living environment for an aging loved one is a big decision for any caregiver. Many factors should be considered including the level of care your loved one needs or will need in the future, what he/she can afford, and his/her lifestyle preferences.
The ShirleyBOARD (http://www.shirleyboard.com), a free online community with tools and features to help those caring for aging loved ones stay organized and communicate with one another, has posted a new article to their website on the topic titled, "Care Options for Your Aging Loved One: How to Make the Right Decisions."
In the article, key considerations are brought to the surface for anyone about to make such a life changing decision. Caregivers may want to consider some of these questions: what kind of existing support network do we have (e.g., family and friends that live close to your loved one); are there any mobility needs, like a wheelchair, transport chair or a walker; what resources are available to pay for senior care and housing; how important is it to my loved one to be able to participate in activities or to stay near to any family or friends?
Of course, listening to your loved one and respecting their desires and needs is the key to a successful change in living environments. It is equally important to look after the happiness as well as the health and safety of your loved ones – a challenging yet important balance.
"This article reflects the personal decision making process I went through with my own mother and her needs," said ShirelyBOARD.com's founder Mark Willaman. He added, "I hope that by posting this article, it will help others organize their own priorities when coming to a decision about senior living environments."
The article goes on to describe several housing options for aging loved ones and the advantages and disadvantages to each situation. Housing options covered include: staying at home, continuing care communities, congregate senior housing & group homes, shared housing & foster care, assisted living, and nursing homes.
About ShirleyBOARD.com
The ShirleyBoard is an online community for people caring for aging loved ones. Originally developed to help its founder with the responsibilities of caring for his aging mother diagnosed with Alzheimer's in 2005, the free site allows caregivers to centrally store important information, keep a log of daily activities, and network with other caregivers.
Document Keeper for uploading wills, power of attorney forms and other documents that you need to keep track of; and, Be a Peer/Find a Peer for users to search for fellow caregivers to get assistance or just connect to ask questions and share tips and stories.
Media contact:
Matt Pitchford
Fisher Vista PR & Marketing
PH: 317-460-0250
E-mail: mpitchford(at)fishervista.com
This press release was distributed through eMediawire by Human Resources Marketer (HR Marketer: http://www.HRmarketer.com) on behalf of the company listed above.
###