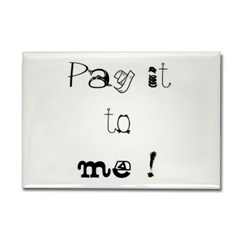 I love creating original, innovative and powerful methods to promote websites on the web
Brussels, Belgium (PRWEB) October 24, 2007
A Belgian blogger aims to develop a new kind of viral marketing concept by asking advertisers to fulfill people's wishes.
Renaud Dehareng, from Brussels, Belgium, set up payittome.com after thinking of ideas to develop new viral marketing concepts. This young "internet entrepreneur" said that he enjoyed creating new buzzy projects. "I love creating original, innovative and powerful methods to promote websites on the web," Renaud said. "It's why I have imagined http://www.payittome.com, a new kind of viral marketing concept. In general, people like what is uncommon and very strange... so, this blog can be a good example of what is made on Internet (in this category)..."
The concept is simple: Payittome is a blog where people can post images of stuff they want (gadgets, shopping items and so on), with the cost and currency prominently displayed. Then an advertiser chooses an image, pays the item for the person, and gets some traffic from Payittome to his site in exchange.
Despite his site having only been online for 3 weeks, Renaud claims he has already attracted some generous advertisers (one of them is his brother) who paid, amongst other things, for a Playstation 3 and an Iphone ...
Tystu (on Digg) commented "This site has the potential to be something really cool. I think the opportunity for advertisers to connect to their audience is deeper than it appears on the surface. Rather than spending money on ad space, paying bloggers directly, etc., advertisers can appeal to a mass audience based on what wish they fulfill. It makes total sense that an artist would buy somebody an iPhone. I'm curious as to how much this "ad buy" increased traffic to the artists site. This is a young concept with a lot of potential..."
The concept seems to work: Renaud has received hundreds of emails (wishes) from curious internauts, and famous blogs like Techcrunch, Gizmodo, Adrants or Blogoscoped have already told their readers about Payittome!
"I think this concept has got the potential to make a lot of happy people around me," Renaud commented, "and perhaps larger companies will fulfill wishes to be present on Payittome and to promote their own website..."
For the moment, Renaud doesn't earn anything from his blog... "Until now it's just a hobby and a passion," he said.
You can learn more about Renaud Dehareng and his brand new viral marketing project at http://www.payittome.com
Contact:
Renaud Dehareng
0474309089 (Belgium)
###