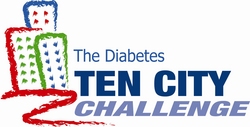 GlaxoSmithKline is proud to be a part of such a forward-thinking initiative as the Diabetes Ten City Challenge
Washington, D.C. (Vocus) October 25, 2007
As the U.S. celebrates American Diabetes Month in November, and presidential candidates clamor to promote their healthcare agendas, an innovative employer-based solution is gaining ground in the fight against chronic diseases.
The Diabetes Ten City Challenge (DTCC) is an employer-based diabetes self-management program conducted by the American Pharmacists Association (APhA) Foundation with support from GlaxoSmithKline. Since it was launched in October 2005, the DTCC has enrolled more than 1,300 participants, 31 employers and hundreds of pharmacists to fight diabetes. Through the DTCC, employers establish a voluntary health benefit for employees and their dependents with diabetes and waive co-payments for diabetes medications and supplies if they work with a pharmacist "coach" to monitor and manage their condition.
"Diabetes afflicts 21 million Americans and costs the U.S. more than $132 billion each year," said APhA Foundation CEO William M. Ellis. "We announced the Diabetes Ten City Challenge in 2005 to make diabetes care a national priority. DTCC participants are managing their diabetes with help from a specially-trained pharmacist coach who helps them track key diabetes indicators, makes sure they eat right, exercise regularly, visit their doctors regularly and take their medications as prescribed and keeps them informed about local diabetes education programs," Ellis said. "Employers are excited to be involved because they know their employees are healthier and they are saving money. It's a win-win for everyone."
"GlaxoSmithKline is proud to be a part of such a forward-thinking initiative as the Diabetes Ten City Challenge," said GSK President of U.S. Pharmaceuticals, Chris Viehbacher. "Collaborative approaches to health management which include patients, healthcare workers, and employers are essential to fighting the real problem in healthcare in America: the epidemic of chronic diseases like diabetes," Viehbacher added.
The Diabetes Ten City Challenge is modeled after other highly successful APhA Foundation programs including the Asheville Project in North Carolina, a diabetes self-management program started 10 years ago that has proven to improve overall health, reduce absenteeism, shorten hospital stays and reduce health care costs.
The DTCC is the first-ever national pilot that seeks to prove the collaborative self-management model can work for public and private employers in diverse geographic locations. Employers contract with the APhA Foundation to participate in the program and specially-trained pharmacists use the Foundation's Diabetes Self-Management Credential curriculum to educate participants about diabetes. Interest in the program has been so widespread that the APhA Foundation announced another new initiative, HealthMapRx™, to offer the DTCC model to employers across the country.
"An additional 50 employers and 1,300 employees are using the DTCC model through HealthMapRx™," Ellis said, "and we expect that to increase through our partnership with the National Business Coalition on Health (NBCH)." More than 70 employer-based coalitions and their 10,000 employer members are part of the non-profit NBCH, including the Hawaii Business Health Council, Midwest Business Group on Health and Pittsburgh Business Group on Health that currently participate in the Diabetes Ten City Challenge.
"Investing in employees' well-being on the front end, rather than paying expenses for chronic illnesses after the fact, has been proven to show significant cost savings for employers and improved health for employees and their families," said Andrew Webber, president and CEO of NBCH and a member of the DTCC Advisory Committee.
"The Diabetes Ten City Challenge and HealthMapRx™ provide an opportunity to transform health care delivery in local communities and drive fundamental change in the U.S. health care system," Ellis said. "Our overall goal is to make this model as widely available as possible and encourage employers to invest in helping their employees manage all chronic conditions. Our nation's health care system is broken - we need more programs that are an investment in wellness rather than an expense for sickness."
About the APhA Foundation
The American Pharmacists Association (APhA) Foundation, headquartered in Washington, D.C., is a non-profit organization affiliated with the American Pharmacists Association, the national professional society of pharmacists in the United States. The APhA Foundation has expertise in designing programs that seek to create a new medication use system in the U.S. where patients, pharmacists, physicians and other health care providers collaborate to dramatically improve the cost and quality of consumer health outcomes through the safe and effective use of medications.
###