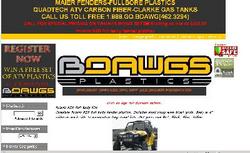 El Cajon, CA (PRWEB) November 5, 2007
Bdawgs Plastics, a leading online adult and kid ATV warehouse, announces the launch of their free holiday giveaway. Website visitors are invited to register for a chance to win a free set of Maier ATV plastics.
With no obligation to buy and no purchase necessary, this giveaway is the perfect contest for the Christmas holiday season. The contest runs through November 30, 2007 and the drawing will be held on December 5, 2007. Winners are able to select from Honda, Kawasaki, Suzuki, Yamaha and Polaris fenders.
Additionally, family-owned and operated Bdawgs Plastics is now carrying all major brands of ATV and UTV plastics. As one of the limited number of stores offering an expansive collection of products including Yamaha Banshee fenders, Bdawgs Plastics now carries Fullbore Innovations plastics for Yamaha Rhino and all other major ATV companies.
Owner of Bdawgs Plastics, Barry Fitzgerald, explains, "We are excited and proud to announce the addition of Fullbore Innovations plastics to our comprehensive product line. By adding Fullbore Innovations, we are able to give racing enthusiasts a one-stop store for all of their ATV, ATC, and UTV plastic needs, which sets our online store apart from the competition."
Fitzgerald further highlights, "Bdawgs Plastics is now the complete online store for Clarke, Quadtech ATV, Fullbore, and Maier plastics. These are all industry leaders in the ATV and UTV plastics and carbon fiber off-road aftermarket accessories. Whether a customer is looking for Yamaha Banshee fenders, Yamaha Rhino accessories, or ATV accessories for Polaris, we have numerous options for them."
As a plastic product specific company, Bdawgs Plastics carries products and lines from the most popular brands in the ATV racing industry including Clarke Gas Tanks, Quadtech Carbon Fiber, and Maier ATV plastics. In addition, Bdawgs Plastics also offers a large collection of kid ATVs, Yamaha Rhino accessories, and Polaris ATV accessories.
For more information about the Maier ATV fenders plastics holiday giveaway, or their extensive lines of Yamaha Banshee fenders, Polaris ATV accessories and other Polaris racing components, please visit Bdawgsplastics.com.
About Bdawgs Plastics:
Barry Fitzgerald started his own repair shop in San Diego, California, which eventually turned into what is now Bdawgs Plastics. He joined with Maier Manufacturing to become a distributor of their industry tested products. This partnership has allowed Bdawgs, with its expansive inventory of plastic Kawasaki, Suzuki, Polaris, and Yamaha Rhino parts and accessories, to sponsor competitive ATV and Rhino racers across the country.
###