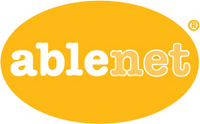 St. Paul, MN (PRWEB) November 5, 2007
AbleNet Inc., a world leader in assistive technology products for persons with disabilities, and U.S. leader in providing curriculum, skills development packages, and technologies for special education students, is currently seeking grant proposals from any non-profit organization that currently provides assistive technology implementation or education programs in China, Russia, India, South America and Africa.
The AbleNet International Assistive Technology Grant Program is being offered to enhance the company's efforts to raise awareness of, and provide greater access to, assistive technologies for persons with disabilities around the world.
Five grant sites will be selected to receive $2,000 worth of AbleNet communication and access equipment and training, as well as a long-term commitment to effecting change within the geographic reach of the chosen non-profit organizations.
To apply for an AbleNet International Assistive Technology Grant, simply submit a brief statement describing the mission of your organization, a short description of how your organization plans to utilize the equipment provided in the grant, and a concise strategy for measuring and evaluating the results of your project. To expedite the selection process, please limit your application to 2000 words or less.
Once complete, send a Word document as an email attachment containing all of the information requested, including your name, mailing address, email address, and telephone number of the project contact person to:
Adam Wing
Senior Director of International Business
AbleNet Inc.
Grant applications will be accepted until December 15, 2007, or until all five grants have been awarded. All submission are judged and awarded solely on merit by discretion of AbleNet.
To learn more about AbleNet and AbleNet products, visit http://www.ablenetinc.com/.
About AbleNet:
AbleNet offers an extensive line of assistive technologies for use in rehabilitation settings, long and short-term care facilities, at home, school, work, and on the go, including highly sensitive switches that provide access to personal electronics, small appliances, toys or virtually any battery-operated or electrical device; portable communication and memory aids; computer access products, including mouse adaptations and mouse alternatives, and an automatic pager turner that is truly unique in the marketplace. The company's also offers a variety of wheelchair, desktop, and other mounting systems that provide customizable access to many of its assistive technology devices. In the United States, AbleNet is widely recognized for its research-based special education curricula aligned with state and federal mandates.
Located in Roseville, Minnesota, AbleNet is an ESOP company that employs 35 people and sells its products through a network of distributors in 49 countries. AbleNet's products and programs have been used in tens of thousands of classrooms nationally and internally for more than 20 years. For more information, visit http://www.ablenetinc.com/.
###