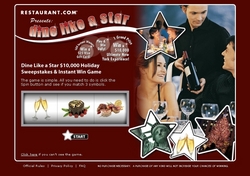 Dining like a star doesn't have to be a luxury saved for special occasions, or only seen on the big screen
Arlington Heights, IL (PRWEB) November 6, 2007
Restaurants have been the backdrop for memorable movie moments. Consider the mermaid who made a "splash" when she ate a whole lobster, shell and all; Ferris the hooky-playing high schooler accused of acting "snooty" and "snotty" at Chez Luis; and Sally whose disruptive "moment" in the deli caused one diner to order whatever she was having. And who could forget young Ralphie and family who found Christmas fortune at the Chop Suey Palace?
Everyday life, like movies, is chock-full of unforgettable experiences that happen at restaurants. Now, diners can visit Restaurant.com for the opportunity to "Dine Like a Star" through a holiday sweepstakes and instant-win game, offering a combined $22,500 in prizes including a full-paid vacation to the dining capital of the world--New York City.
"Dining like a star doesn't have to be a luxury saved for special occasions, or only seen on the big screen," said Cary Chessick, president and CEO of Restaurant.com. "Every day, we connect people with generous savings at great restaurants, right down the street. Now, we're giving one lucky person the chance to eat, drink, save and win big. Who doesn't want to sample the flavor of local dining in the Big Apple?"
The Restaurant.com "Dine Like a Star" promotion begins Nov. 6, 2007 and continues until Dec. 25, 2007. During that time, visitors can log on to Restaurant.com for sweepstakes entry and to play the instant-win game. Once registered, participants are automatically entered into the sweepstakes for the chance to win the $10,000 grand prize vacation package to New York City. The grand prize includes round-trip airfare for two, seven-night hotel accommodations, car service, and an allowance for dining, theater-going, and sightseeing. The grand prize for the sweepstakes will be drawn on Jan. 31, 2008.
The "Dine Like a Star" promotion also awards 500 instant-win prizes through a slot-machine style game. A total of 10, $25 pre-loaded Visa cards will be randomly awarded each day through Dec. 25, 2007 for a combined value of $12,500. Participants click to spin the game wheels and match three images. If the images line up when the wheels stop, players win instantly. Visitors are allowed to play and enter once per day, and can earn more chances to win by recommending friends to participate via email.
Participants not selected for prizes can still receive special savings codes for discounts on Restaurant.com gift certificates. More than 8,500 restaurants nationwide and 700 restaurants in grand-prize-destination New York City offer gift certificate options on the site, including $25 gift certificates for $10. Last year, Restaurant.com helped consumers save more than $30 million through the restaurant gift certificate program. More information and official rules for the "Dine Like a Star" promotion are available at Restaurant.com.
About Restaurant.com
Restaurant.com connects restaurant seekers and food lovers to more than 8,500 restaurants nationwide and to various online retailers. As the nation's leading online directory of restaurants and restaurant gift certificate provider, the company brings people together to relax, converse and enjoy well-prepared and -served meals at affordable prices. Restaurant.com has operated continuously since 1999 and is based in Arlington Heights, Ill.
###