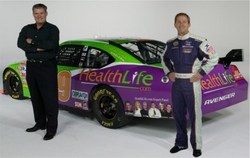 Melrose, FL (PRWEB) November 6, 2007
Vic Johnson, founder of online goal setting portal Goals-2-Go.com, will be "riding along" with NASCAR's John Andretti during this Sunday's Checker Auto Parts 500 Nextel Cup race in Phoenix.
Andretti's #49 Dodge Avenger will sport the image of Johnson along with six other experts from the website HealthLife.com which launches in December. Johnson was recently chosen by HealthLife to be its resident expert on goal setting.
"I'm really excited to be a part of the HealthLife team," Johnson said, "and I'm honored to be included on the #49 car during a major NASCAR race. Racing, especially at the Nextel Cup level, has a lot of lessons for all of us who are looking for ways to achieve bigger goals and dreams. Focus, persistence, commitment, preparation and belief get you across the finish line first on the race track and on the life track as well.
"Within the few short hours of a race you can witness the entire goal setting continuum. You start with a big dream, the vivid idea of you sitting in the winner's circle receiving the prize. You have a solid step by step, in this case lap by lap, plan to reach your dream. Along the way you have to deal with obstacles, distractions, set backs, fear and all the other emotions. You and your pit crew have to be constantly monitoring your progress and making adjustments as you go. Finally, the race is over and you either celebrate your victory or you evaluate your performance and make the necessary adjustments for your next outing."
About Vic Johnson
Vic Johnson is a well-known motivational speaker and author as well as host of Goals 2 Go, a popular television show on The Success Training Network (TSTN). He is the founder of Goals-2-Go.com, a goal setting portal featuring goal setting programs, goal setting software and other programs for setting goals for weight loss, smoking cessation and debt reduction. The Melrose, Florida-based company, which has roots in a program first introduced in 2001, has produced annual goals solutions for its more than 100,000 subscribers. Along with co- author Lisa Leguenec, the new lineup of Goals 2008 programs features such well-known goal setting experts as Jim Rohn, Dr. Denis Waitley and Bob Proctor, star of the worldwide phenomenon "The Secret."
###