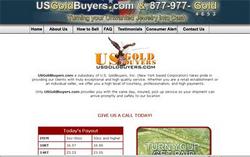 New York, NY (PRWEB) November 9, 2007
With gold valued at a record high, USGoldBuyers.com announces the introduction of their new, free product. The Express Pack is a brand-new, innovative solution that has been created and implemented by USGoldBuyers.com to help customers expedite their precious metals and sell gold jewelry.
Clients are given a unique opportunity to sell jewelry online to earn cash for gold and other precious metals, which is additionally beneficial because gold is at a 28 year record breaking high. With high market prices, customers have a great advantage to earn cash on unwanted jewelry.
USGoldBuyers.com has changed the gold refining industry by combing individual sellers with institutional clients, thus offering the highest payouts in the industry. Known as being scrap gold buyers, USGoldBuyers.com also invites their clients to sell loose diamonds, gold coins, fine watches, and antique metals.
Anna Skvir, CEO of U.S. Gold Buyers, Inc., explains, "We are more than simply scrap gold buyers, we offer our clients the prospect of selling diamonds, coins, fine watches, and much more. US Gold Buyers service is extremely convenient for anyone who wishes to liquidate their jewelry or any precious metals for immediate cash."
Additionally, USGoldBuyers.com is one of the only companies offering free, insured overnight shipping services. Clients are given the option of same day pick up service, which allows their shipment to arrive promptly and safely. Customers who sell gold jewelry and other precious metals and stones earn some of the highest industry wide payouts. USGoldBuyers.com also offers refiners' payout to the general public, which helps promote the company's integrity and known exceptional customer service.
Skvir continues, "We created our website to be user-friendly with limited pages, which allows the customer to stay on track. Our customers don't have to leave their homes or work to use our service. They no longer have to shop around at local pawn shops and receive low offers. Instead, they can now go directly to one place to get the top dollar they truly deserve."
To learn more information on how to sell gold jewelry or loose diamonds online, please visit USGoldBuyers.com.
About USGoldBuyers.com:
USGoldBuyers.com is a subsidiary of U.S. Gold Buyers, Inc., a New York based corporation. This well established company specializes in the purchasing of precious metals and stones including antique gold, gold coins, loose diamonds, scrap metals, fine watches, and more. Their clients have the option to sell jewelry online for quick, easy cash. Additionally, USGoldBuyers.com donates a portion of the generated profits to the American Red Cross Disaster Relief Fund.
###