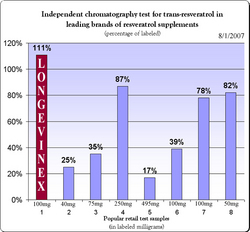 A Unifying Theory Of Aging
San Dimas, CA (PRWEB) November 12, 2007
Resveratrol dietary supplements are slowly improving in quality but many brands still fall far short of providing the labeled amount of trans resveratrol, according to an independent laboratory test issued today by Longevinex®.
Among 7 other brands tested, dosage ranged from 17 to 87 percent of the labeled amount. (See accompanying chart)
Resveratrol has gained considerable attention from both the scientific community and consumers as an activator of the Sirtuin 1 DNA-repair "survival" gene and molecular mimic of a calorie restricted diet.
Longevinex® gained attention in the news media for being the resveratrol supplement most used by university researchers themselves and for its tested ability to activate the Sirtuin 1 gene. So far, no other competing brands have shown their products actually activate the Sirtuin 1 gene equally as well as research-grade resveratrol.
Longevinex® offers the following additional advice to consumers of resveratrol supplements:
1. Online buyers need to examine the Supplement Facts box for resveratrol supplements. Some brands sold online do not display the Supplement Facts box so consumers can accurately assess all the ingredients and dosage provided. For example, some brands state the gross amount of powder in the capsule, but the actual amount of resveratrol provided is far less. For example, the label on the front of the bottle may say it provides 100 milligrams, but as a 25% botanical extract there are only 25 milligrams of actual trans resveratrol in each pill.
2. Information on product labels is limited. Online reports provide more ample information to consumers. For example, recent concern over the purity of dietary supplements has caused consumers to be more alert for the existence of contaminants. Longevinex® posts, for online examination, an independent laboratory report showing it is free of contaminants such as hormones, pesticides and heavy metals.
3. Good Manufacturing Practices (GMPs) require independent testing of finished goods to verify content and dosage of all ingredients. Some makers of resveratrol supplements display certificates of analysis from raw material suppliers based in foreign-countries, which is not acceptable under GMP guidelines and does not reflect the quality of the finished product.
4. Don't be fooled by tests which show that freshly-made resveratrol supplements provide labeled amounts of resveratrol. Resveratrol is an unstable botanical extract that is subject to degradation or molecular alteration from exposure to light, heat or oxygen. (International Journal Pharmaceutics, August 10, 2007 online) A 2-year shelf life is recommended for dietary supplements. So far, Longevinex® is the only company to show, by independent laboratory testing, that its product provides over 96% of the labeled dosage 2 years after its production date.
5. Some suppliers of resveratrol recommend extremely high doses that have never been employed in long-term human studies and are based entirely upon a study where mice were fed an extremely high-fat diet (60% fat-calories), which is not characteristic of the American diet (35% fat calories). Only dosages greater than provided in dietary sources (the best red wine provides just 3 mg in three 5 oz. glasses), but much lower than the Nov. 1, 2006 Nature Magazine mouse study (1565 and 360 mg), appear to mimic the biological effect of calorie-restricted diets. Longevinex maintains a dosage ~180 mg for a 160-pound adult more accurately reflects a safe and effective dose for human use. While extremely high-dose resveratrol (5000 mg) has recently been shown to be safe in a human study (Proceedings American Association Cancer Research, Abstract 5741, 2006), there is concern that supra-high dose resveratrol, as a copper chelator, may induce anemia in the long term, as evidenced in a recent high-dose animal study. (Food & Chemical Toxicology 45: 55-63, 2007)
6. Resveratrol supplements continue to become more affordable as the cost of raw materials decline. Price guides based on resveratrol content only do not serve as a fair comparison for products like Longevinex® which provides an array of other synergistic nutrients. Longevinex® maintains it unique formula, which provides resveratrol, quercetin and rice bran, improves immediate bioavailability, boosts mineral chelating activity, and is superior to resveratrol alone. Longevinex® asserts human aging begins after childhood growth ceases and minerals like iron and calcium begin to accumulate. For further information, refer to the online report entitled "A Unifying Theory Of Aging," at http://www.longevinex.com
###