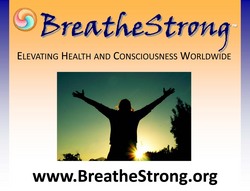 A few focused minutes of deep breathing brings instant results, and can have long-lasting, positive health effects
San Rafael, CA (PRWEB) November 12, 2007
Through BreatheStrong.org, Donald and Cheryl Lynne, social entrepreneurs and internationally recognized experts in the fields of health and wellness, draw on their combined 70 years in the health and fitness field to help others improve and maintain health, reduce the negative effects of stress, increase quality of life and increase joy and happiness.
Researchers have found that the oxygen in our atmosphere today is as much as one-third less than in ancient times, and it is especially low in larger cities. At the same time, the earth's oxygen-producing trees and rainforests have shrunk to the smallest size in recorded history.
"Today's low oxygen content puts tremendous stress on the human body as it labors to obtain all of the oxygen required to function properly. As oxygen levels in the body are reduced, the immune system begins to weaken, cell performance is impaired, and we become vulnerable to disease and other symptoms of oxygen deprivation. Practicing the BreatheStrong system will reverse this immediately," says Cheryl Lynne Rubbo.
"A few focused minutes of deep breathing brings instant results, and can have long-lasting, positive health effects," says Donald Rubbo.
BreatheStrong.org provides a wealth of information, based on scientific studies and time-proven methods, about the instantaneous benefits of increasing the oxygen content in the bloodstream:

Preventive maintenance
Increase the quality of life
Slow the aging of body and mind
Recover from fatigue and irritability
Restore and maintain youthful energy
Heal more quickly from injuries and illnesses
Increase concentration and memory retention
Deepen your meditation and enhance tranquility
"Our purpose is to raise awareness about the profound health benefits of deep breathing, and to foster the growth of connected communities working together for peace, and encouraging the integration of wisdom, compassion, spirituality and right view into daily living," explains Elizabeth Meloney, program coordinator.
BreatheStrong offers "Extraordinary Breath" workshops, intensives and retreats and instructional books. BreatheStrong members receive discounts on teachings and books. Currently in the production stage: instructional DVDs on this remarkable system.
BreatheStrong is a subsidiary of Paul D. Pickens II Research Foundation, a nonprofit health education organization. PDP II Research Foundation is a leader in transformative health practices, and with the support of PDP II donors and BreatheStrong members the Foundation is making a positive difference in the health of communities throughout the world.
For more information, call 415.453.9899 or visit http://www.BreatheStrong.org.
# # #