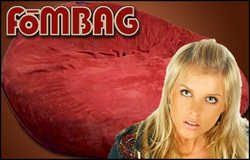 Salt Lake City, UT (PRWEB) November 12, 2007
Foam Bag launches Generation 2 foam love sacks and bags.
Foam Bag, also known as FOMBAG, is excited to announce the launch of their new generation 2 foam bags. After a few years in the giant foam bean bag chair industry, Foam Bag has improved its already great and comfortable product even more. Foam Bag is also proud to announce that their generation 2 foam bags are manufactured in the USA.
Product Improvements
Foam Bag already made one of the most comfortable lounging chairs available. Foam Bag's product is often also referred to as a "love sack", which came from the name of a company called Lovesac that named its product a "lovesac". People now use the term "love sack" to describe large foam filled bean bag chairs in general. After searching and dealing with manufacturers around the world, Foam Bag found a solid manufacturer who could sew better and make a more solid product. Foam Bag also moved to a Premium Grade Microsuede. The microsuede now being used by Foam Bag is the thickest and most comfortable microsuede material available. This is important because many competitors use a thinner grade micorsuede that wears out quicker, fades faster, and is just not as comfortable or as soft to the touch. Foam Bag's liners, which are always included in the price, are also now thicker and more durable. The liners are so good now that the foam bags could be used as chairs without the outer covers. Foam Bag's shredded foam filling is also now more consistent and has better memory and return.
New Products and Sizes
Foam Bag also released is a new 7 foot size. The popular 6.7 ft foam bag is now available as a full 7 foot bag. Most companies selling a product similar to Lovesac's popular love sack, offer a 6 foot and claim it to be a 3 person chair. Although you can fit 3 people in a 6 foot size foam sack, there isn't room to spare. Foam Bag's 7 foot foam filled, huge bean bag chair is the first real 3 person chair with room to spare. Foam Bag also now has an exciting and fun product called the FOMPILLO, which is a giant body pillow measuring 5 ft x 6 ft.
USA Manufacturing
Foam Bag is very proud to be manufacturing all new products in the USA. We are proud to support jobs in the United States and feel confident that our American made product is more thoroughly inspected and tested, and safer to enter your home.
Product Uses
Foam Bag's generation 2 product has many fun and practical uses. Foam bag chairs are rapidly increasing in popularity with teenagers and college-aged students. The bigger the foam bag, the more it is loved. Many college students are replacing their beds and using a foam bag instead. They are also filling their dorms with foam bags and using them as their primary dorm furniture because they double as chairs and beds. The new 7 foot is ideal for bed replacement because it is bigger and allows for more room and more people. Foam Bags are also becoming the new furniture for home theaters and movie rooms. Rather than traditional sofas and couches, people are throwing down several foam bags as their home theater seating. Foam bags are also great for kids' bedrooms, family rooms, game rooms, great rooms, and even for an office to take those afternoon power naps.
Foam Bag is excited to provide a product that can be enjoyed by everyone in the family. They make excellent Birthday, Christmas, and Anniversary gifts.
For more information about FOMBAG's products, visit http://www.fombag.com, or call toll free 1-866-7-FOMBAG.
# # #