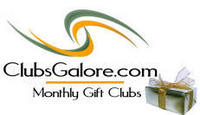 Recipients get to enjoy wine one month, chocolate another, and a night out to dinner yet another. What's more fun than that!
South Setauket, NY (PRWEB) November 13, 2007
Featuring original and innovative monthly gift clubs, ClubsGalore.com offers an extraordinary way to please everyone this holiday season. Their new take on the old jelly or fruit "of the month clubs" introduces many exciting new gift of the month clubs including the Gift Card Club, Dinner Club, and the Variety Club.
Because of their versatility and mass appeal, statistics show that many shoppers are opting to give gift cards this Christmas. The Gift Card Club offers the unique experience of receiving a gift card to a different store every month for as many months as the sender chooses. Another version of this club, the Dinner of the Month Club, offers dinner certificates to dozens of well-known restaurants.
ClubsGalore.com's most popular club is the Variety Club, which allows the sender to choose any combination of clubs within a membership for any amount of time.
"Our customers love this club," explains Maria Vaccaro of ClubsGalore.com. "Recipients get to enjoy wine one month, chocolate another, and a night out to dinner yet another. What's more fun than that!"
Their other monthly gift clubs include first-class wine, exotic teas and coffees, delicious cakes, plants, bath & body indulgences, fabulous candles, gourmet treats, cookies, pies, chocolates and more...
All gifts are selected through a rigorous search for only the finest and freshest; and many products they send each month have appeared in magazines such as O, the Oprah Magazine, In Style, Better Homes and Gardens, and many more. These products include KarenKlein candles and bath gifts, Potting Shed Creations gardening gifts, Carousel Cakes, and more.
Traditionally, monthly gift clubs are a wonderful gift option because they allow recipients to celebrate the joy of Christmas all year long. In return, the giver is remembered and cherished month after month. This "eternal gift" is also a great way for people in business to stay connected to their clients, colleagues and employees.
The benefits of giving ClubsGalore.com's gift clubs for the holidays don't end there. Shipping is free for all clubs, and personalized certificates with the giver's special message arrive with every gift. The shopping experience online is ultra-easy and convenient, and customer service is extremely helpful and friendly and available any time of day or night.
This year ClubsGalore.com has added a special bonus -- a free year's subscription to one of dozens of magazines with the purchase of most gift clubs. It is a final touch to the already ultimate gift.
ClubsGalore.com was founded in 1999 and features unique and extraordinary monthly gift clubs. Please feel free to download photos from website.
###