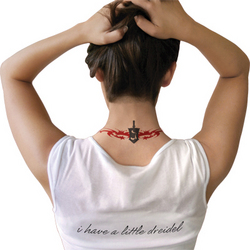 This may be the first time a Hanukkah item is included in this high-profile celebrity event,
Atlanta, Georgia (PRWEB) November 13, 2007
"It's about time!," was the common sentiment when ModernTribe.com customers learned that No Limit Texas Dreidel will be included in a prestigious celebrity gifting suite celebrating the American Music Awards. "This may be the first time a Hanukkah item is included in this high-profile celebrity event, " said Jennie Rivlin Roberts, owner of ModernTribe.com where the game is sold, and co-inventor of the game with her husband Webb Roberts.
Celebrities will be given the No Limit Texas Dreidel game and premium milk chocolate coins from Madelaine Chocolate. The game uses poker betting rules but the stakes are chocolate gelt (Yiddish for coin) instead of poker chips.
Most of the American Music Awards performers and presenters are not Jewish. No matter, in Rivlin Roberts experience, non-Jews enjoy the poker inspired party game as much as Jews. Rabbi Joseph Bloch from Jerusalem, Israel predicted, "the non-Jewish celebrities will enjoy being included. Hopefully, it will inspire people to learn a bit more about each other and themselves." "Think of all the Christmas items Jews receive," added Lara Rykiss of Manitoba Canada, who will be playing No Limit Texas Dreidel with her friends and family this Hanukkah. No Limit Texas Dreidel parties large and small are taking place across the country beginning the eve of December 4th, the first night of Hanukkah this year.
Who is Jewish at the American Music Awards? "I've read that AMA performers Brad Delson and Rob Bourdon of Linkin Park and Adam Levine of Maroon 5 are Jewish," said Rivlin Roberts. "I hope Jewish celebrities will be excited and proud to see the game representing Hanukkah, a celebration of religious freedom."
The celebrities will also receive temporary tattoos with the No Limit Texas Dreidel logo. Do temporary tattoos make for controversial marketing given that real tattoos are forbidden by Jewish law? "The prohibition is clearly against permanent markings and these are temporary. So I guess for adults it's fine," responded Rabbi Rebecca Schorr of Fountain Valley, California.
ModernTribe.com specializes in providing design-conscious Jews gifts and Judaica that celebrate age-old traditions with modern style. This Hanukkah, No Limit Texas Dreidel is only available at http://www.ModernTribe.com. Next Hanukkah, retailers everywhere will be selling the game.
# # #