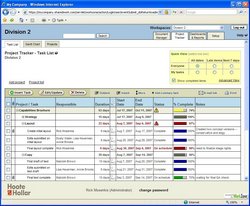 East Norriton, PA (PRWEB) November 15, 2007
Trichys, the developer and marketer of WorkZone® online collaboration and project management software, today announced the release of WorkZone 6.0.
The new WorkZone Project Tracker offers the power of professional project management to users who require a tool that is web-based, fast to implement, easy to learn, and simple to use.
With capabilities similar to established tools such as Microsoft Project, WorkZone's Project Tracker incorporates durations, start dates, end dates and dependencies on previous tasks. It allows users to automatically calculate start and end dates of tasks and the project as a whole. Available on the web, it can be used 24/7 from any location.
Content can be imported directly from Microsoft Project into the WorkZone Project Tracker, and exported to Excel. In addition, the Project Tracker offers the option of reflecting the content in a Gantt chart view.
And because it is part of WorkZone, the leading online collaboration extranet, Project Tracker integrates a powerful document manager and group calendar.
According to Rick Mosenkis, president and CEO of Trichys, the new Project Tracker fills a gap in the project management marketplace. "At WorkZone, we believe that traditional project management tools, like Microsoft Project, are far too complex for all but the most sophisticated users. They don't translate well to a broader business audience, and by the time they're circulated, they're out of date.
We've designed WorkZone with a careful balance of key project management capabilities and a user-friendly interface that makes it a compelling Microsoft Project alternative. And because WorkZone is accessed via the web, it's always as current as the latest updates."
Trichys LLC, the creator and marketer of WorkZone, was founded in 2002. It is a leading provider of web-based collaboration products designed to be implemented, used and maintained by non-technical business professionals. Privately held, the company is led by communications and technology professionals committed to creating easier and more powerful ways for businesses to collaborate and communicate with branch offices, customers, suppliers and partners. With more than 30,000 users worldwide, its customer base includes service companies (advertising agencies, construction, financial services, consulting firms), manufacturers, marketing departments, and other teams that require sophisticated collaboration and project management tools with a minimum of training.
###