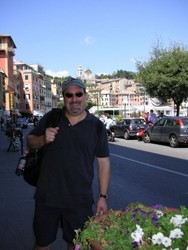 Beverly Hills, CA (PRWEB) November 15, 2007
Avast ye foodies! Tony Princiotta, manager / wine buyer of The Cheese Store of Beverly Hills is planning a trip to Spain and Portugal aboard the Silversea luxury cruise ship Silver Whisper. Princiotta will lead an "insider's only" exploration of romantic ports of call, visiting markets, wineries, artisanal food producers, and off-the-tourist beat restaurants and cafes. Cruise dates are Aug. 2 - 9, 2008.
Guests will fly from their home city to Barcelona, where they will embark upon the Six Star Silversea Silver Whisper cruise ship, featuring all suite accommodations. Vista Suite cruise fares start at approximately $4,546 per person, which includes all beverages, gourmet meals, and all gratuities. Airfare is not included. Participants will disembark in Lisbon, Portugal on Aug. 9.
Ports of call include Barcelona, Formentera Island (Balearic Islands), Valencia, Cartegena, and Málaga. After sailing through the Straits of Gibraltar, the ship will cruise to Lisbon where guests will enjoy an overnight stay on board Silver Whisper prior to disembarking the following morning.
Silversea is a family-owned and operated business, founded by the Lefebvre family of Rome. The cruise line was conceived to offer a personal style of cruising unrivaled in the world. All components are customized, complementary, embracing and based on each guest's unique desires. Silversea comprises a fleet of four ships that are as elegant and spacious as grand hotels, yet as warm and inviting as gracious homes. For more than a decade Silversea's fleet has fulfilled this promise. Voted World's Best year after year, it is a collection of all the small details, the unseen intangibles that make a Silversea voyage so much more.
Reservations are limited and are being booked on a first come basis. For details or exclusive reservations to travel with Tony Princiotta contact American Express Travel in Beverly Hills at 310-274-8277 prompt 3 for travel or email beverlyhillsctn@aexp.com
###