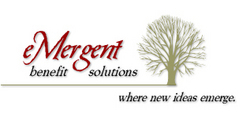 Our mission is to provide our clients with top-tier consulting services and solutions aimed at helping them meet their business goals
Camden, NJ (PRWEB) November 16, 2007
Combining innovative administration and technology solutions with the structured principles of Six Sigma methodologies, eMergent Benefit Solutions (http://www.emergentbenefits.com) challenges standard thinking to deliver optimal solutions to meet HR strategies and business goals. Simply put, EBS assesses and recommends solutions to clients on how to maximize the efficiency and effectiveness of their HR service delivery and overall operations.
"Our mission is to provide our clients with top-tier consulting services and solutions aimed at helping them meet their business goals," says co-founder and President Lisa Lange. "A lot of companies are struggling to find a new way to change the paradigm of ineffective processes. We help companies identify where inefficient processes and gaps exist, and work with them to develop a custom solution that will have a positive impact on their business goals."
EBS' Human Resources consulting services evaluate and analyze a client's current administration processes in order to reduce inefficiencies while establishing new processes with Six Sigma methodologies that support their business goals and strategies. For clients leading the charge to have more effective internal business processes and improve the bottom line, EBS has a five step approach to help companies improve their business processing.
"Our systematic approach enables clients to realize significant gains in the way business is done. By implementing these changes, companies are better aligned with their corporate goals and overall business strategies with the bottom line showing real improvement," says co-founder and Chief Operating Officer Gretchen Winterbottom. "Now is the time for companies to realize there are real-life solutions available. EBS has the expertise for delivering effective solutions that allow for long-term value."
For most companies, legacy systems and archaic processes are the key reason for not being able to meet or achieve improvements within their HR administration services. EBS has the knowledge and know-how to help identify the most effective and efficient methods for achieving company goals.
As a registered member of the Microsoft Empower Program, EBS utilizes the latest tools and development software available to build leading technology point solutions for our clients. These solutions align with EBS' overall strategy to help clients succeed.
About eMergent Benefit Solutions (EBS)
eMergent Benefit Solutions provides HR Administration and Technology Solutions that drive shareholder value. Our clients rely on us to challenge standard approaches to define, analyze, design, enable and sustain effective process improvements for the HR service delivery model. EBS' mission is to provide consulting services supported by leading technologies that have a significant impact on our customers' human resources strategic goals.
###