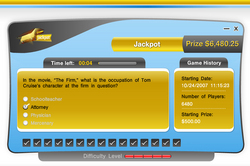 the jackpot games are absolutely nerve-wracking with no room for mistakes
Marble Falls, TX (PRWEB) November 16, 2007
Trivia On Net and its community are happy to congratulate player Daniel R. for hitting the jackpot! On Wednesday, November 14, Daniel answered correctly each one of the 15 questions about movies and general knowledge, and took an amazing cash prize of $6,480.25.
Jackpot winner Daniel R. is a 31 year old engineer from San Diego, who has been a member of the community since its very first days. With movies trivia being his favorite topic, you can usually find Daniel at the Entertainment game room, chatting with other film buffs and showing off his skills while playing the free and real money games. And thanks to this movie knowledge and game experience, Daniel played a brilliant game.
"I have to admit I got lucky on a few of the jackpot questions" said Daniel when telling Trivia On Net about his thrilling experience. The self-proclaimed "lover of all things trivia" was incredibly surprised and relieved to discover that the last and deciding question was "What was Tom Cruise's job in the film 'The Firm'?", undoubtedly a no-brainer for a movie fan like Daniel.
But Daniel didn't have it so easy with the other questions, who found himself picking his brain to answer brain teasers that included "Whose bowlegs inspired a furniture style?", "Which acclaimed director made 'Judex' in 1916?" and "Who said 'Life doesn't imitate art, it imitates bad television'?"
"What a rush! I immediately called my wife to let her know I'd won" told Daniel when asked how it felt to win over $6,000 just for getting some questions right. On playing at Trivia On Net he says that "the multiplayer games are fun and a great rush" and that "the jackpot games are absolutely nerve-wracking with no room for mistakes".
Trivia On Net's jackpot games are available 24/7, with an entry fee starting as low as $1, and where players can pick a topic, such as Sports, Movies or general knowledge. Since it first opened to members, Trivia On Net has handed out over $40,000 in cash prizes through games and special events. The upcoming $10,000 Trivia Tournament will give players another great opportunity to win huge prizes, and the registration is already open.
With non-stop game action, jackpots and upcoming events, TriviaOnNet.com is the number one trivia game site today leading the entire market to exciting new frontiers.
About Trivia On Net
Trivia On Net is a multi-player online trivia games site featuring free and real money games in popular topics including sports, music, entertainment and general knowledge. Now joiners to the member community receive $5 free to try the games, and players making their first deposit get a 50% match bonus up to $500.
###