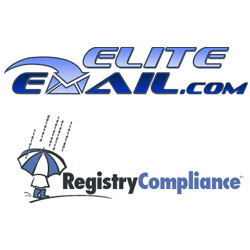 We are proud to welcome Elite Email Marketing into our network of compliance partners
Toronto, ON, and New York, NY (PRWEB) November 20, 2007
Elite Email Marketing software (EliteEmail.com) and Unspam Registry Services, Inc. (RegistryCompliance.com) have joined forces to protect children from adult-oriented emails. Elite Email Marketing is the latest partner to join the Registry Compliance program, which works to ensure email senders comply with the various child protection state registry laws.
The Elite Email Marketing software powers business email marketing campaigns for a wide variety of clients. Some of these clients use email marketing to promote their wineries, tobacco shops and other adult-oriented businesses. Recently, states like Michigan and Utah have instituted laws that prohibit these businesses from sending commercial emails to children.1
"While pornography and offensive content have always been strictly prohibited through our direct email marketing solution, we do have valued clients that operate legitimate adult-oriented businesses. We feel it is particularly important to protect children from these commercial emails," says Robert Burko, president of EliteEmail.com. "Our partnership with Registry Compliance allows us to assure our clients they will never risk sending adult targeted emails to children in the states that have instituted this important registry."
Elite Email Marketing's partnership with Registry Compliance allows the databases of all EliteEmail.com customers operating in adult-targeted markets to be checked against the state registries, and all registered children to be removed from the databases automatically.
"We are proud to welcome Elite Email Marketing into our network of compliance partners," says Eric Langheinrich, CTO of Unspam Registry Services. "It is great to see that more and more email marketing software providers are taking action to protect America's children."
1 In July of 2005, the U.S. states of Michigan and Utah became the first to establish children's protection registries. These registries are secure collections of e-mail addresses, instant messenger IDs and other types of addresses that are protected from receiving adult-oriented messages.
About EliteEmail.com
Elite Email Marketing (EliteEmail.com) is the industry leading email marketing software provider, supplying a full suite of email marketing solutions to individuals, small businesses and enterprises. EliteEmail.com services clients in all corners of the globe, spanning industries such as real estate, entertainment, hospitality, retail and many others. EliteEmail.com is part of the EliteAnswers.com family of online business solutions, headquartered in Toronto, Ontario, Canada.
About Unspam Registry Services, Inc.
Founded in 2001, Unspam is a software and services company helping governments author, implement, and enforce effective laws to control unwanted messages. Unspam also provides expert consulting services to businesses wishing to ensure compliance with these laws as efficiently as possible. Unspam's patent-pending RedListing™ technology allows the creation of secure communication protection systems such as those used by Utah and Michigan with their Child Protection Registry laws. Our list implementation system helps a government define clearly the messaging preference of its citizens without compromising their privacy or violating the rights of marketers. Learn more at http://www.RegistryCompliance.com .
# # #