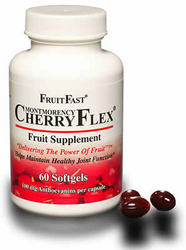 Quite simply, this is our way of offering the public a free chance to try CherryFlex, and experience its benefits.
Traverse City, MI (PRWEB) November 19, 2007
For a limited time, FruitFast, the manufacturers of CherryFlex, America's best selling tart cherry softgel capsule, is offering a bottle of 60 of their popular gelcaps absolutely free of charge. The only cost is $9.95 to cover shipping and handling. There is a limit of one bottle per household.
"This is not a marketing ploy," explains Steve de Tar of FruitFast, the pioneering functional food company that literally created the encapsulation of tart cherries and resulting nutraceutical market niche several years ago.
Customers ordering their free bottle of CherryFlex are not under any further obligation to buy additional bottles or sign up for recurring shipments. Orders may be placed online by clicking on the following link: http://www.cherryflex.com
"Quite simply, this is our way of offering the public a free chance to try CherryFlex, and experience its benefits."
Why should you consider trying a daily regimen of two CherryFlex Softgel capsules?
For starters, it's an all natural-fruit product that contains no preservatives, has a great cherry taste and is convenient and easy to chew or swallow. Only Grade A whole tart cherries are used in the company's exclusive process.
CherryFlex also:

Supports healthy joint function. *
Supports a healthy cardiovascular function. *
Helps maintain a healthy or normal sleep cycle. *
Supports a healthy immune system. *
Contains 100 mg anthocyanins along with 20 mg of flavones and other phytonutrients per capsule. *
About FruitFast
FruitFast is the exclusive producer of whole fruit softgel capsules including CherryFlex, Wild BlueberryIQ and their recent introduction---Wonderful Pomegranate. The nutraceutical and functional food company http://www.fruitfast.com also produces a variety of high potency, condensed liquids and fruit supplement bars made from 100% fruit. Remember, to take advantage of the free bottle of CherryFlex offer online, you must go to http://www.cherryflex.com and place your order.
This statement has not been evaluated by the Food and Drug Administration. This product is not intended to diagnose, treat, cure or prevent any disease.
###