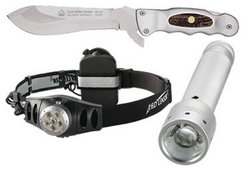 LightsAndKnives.com truly owes its successful first year in business to those customers that found our products and prices superior to the other online outdoor equipment retailers out there
Portland, Oregon (PRWEB) November 19, 2007
LightsAndKnives.com, a Portland, Oregon based online retailer of discount LED lights and outdoor knives, is celebrating its one year anniversary as an online outdoor equipment retailer by offering holiday shoppers discounts on hundreds of LED flashlights and other LED products. The retailer will also offer cost savings on all of their Coast, Swiss Army and Puma brand knives and accessories.
"LightsAndKnives.com truly owes its successful first year in business to those customers that found our products and prices superior to the other online outdoor equipment retailers out there," said Rob Willhite, Business Development Manager of DLK at LightsAndKnives.com. "We really want to share our enthusiasm and gratitude for this success with them."
Starting today and running through December 31, 2007, LightsAndKnives.com will offer shoppers a 20% discount off of their total online purchase. To receive the cost savings, customers may enter the promotional code "HFP7" in the appropriate field of the online ordering form as they complete the checkout process. The retailer will also continue to extend free standard shipping on all orders over $100.
LightsAndKnives.com offers a large selection of LED indoor and outdoor lighting products in addition to several different brands and models of sporting and personal knives. LED light technology has become more pervasive and increasingly popular among outdoor enthusiasts as a lighting solution because of its energy efficiency, longer lasting bulb and battery life, brighter light beams and durability.
"LED lights really are the next generation of indoor and outdoor lighting and we want to let more and more people in on how impressive these products can be. Shoppers looking for gifts this holiday season for the hunter, hiker or camping enthusiast in their family will find our LED flashlights, lanterns, headlamps or tactical torches the perfect gift," said Willhite.
In addition to LED flashlights and torches, LightsAndKnives.com offers an assortment of products and accessories including hunting and survival knives, knife cases and sharpening equipment, fishing tools, Moppels, batteries and LED home lamps and light.
About LightsAndKnives.Com
LightsAndKnives.Com is a leading online retailer of discount LED lights and knives. Based in Portland, Oregon, the company offers LED lighting options for general, professional, tactical, and outdoors use. Columbia sporting gear, whimsical Moppels, home lighting products, and kitchen cutlery are just a few of the many products sold by the retailer.
For more information about LightsAndKnives.Com, please contact Rob Willhite at (800) 964-3901.
Contact Info:
Rob Willhite, Business Development Manager of DLK
LightsAndKnives.Com
Portland, OR 97208
Phone: (800) 964-3901
Email: rob@lightsandknives.com
Web: http://www.lightsandknives.com
###