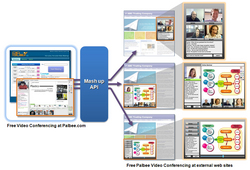 This format of delivering a message, presentation slides with video and audio, is very effective over the Internet, especially for marketing and education.
Seoul, Korea (PRWEB) November 19, 2007
PalBee announced today that it is offering its Mashup API to developers in order to encourage the development of third party applications based on its new video conferencing service, PalBee.com. This API will allow bloggers and webmasters to embed a PalBee video conferencing window directly. Anyone can provide static video conferencing spaces in their web page to chat face-to-face with their visitors. Now PalBee's online video conferencing service is more freely available to anyone at any time, anywhere they can access the Internet.
"PalBee is a free, cross-platform, flash-based service without installation or download hassles," said Albert Kim, CEO of Zenitum Inc. "Using this Mashup, you can develop your own video conferencing web application for your own site."
One example of this new functionality is that a skilled developer would be able to make a page full of video conferencing rooms on a company's web site. This video conferencing wall could be staffed with customer support representatives standing by to chat with customers, solving their problems with a full communication range of voice, video, and diagrams.
A closed beta test of the new Mashup API will begin in early December. For more information about participating in the closed beta test visit Palbee.com (http://www.palbee.com).
About Palbee.com
In today's expanding global marketplace, the person with the information and the people who need the information cannot always be in the same place at the same time. Many communication technologies such as mobile phones, email, or online messengers are useful but often inadequate for distributing large amounts of information to many people quickly. PalBee combines several features of other popular computing tools into one online application that requires only a free registration to use.
For instance, it can allow video chatting between people like Skype and MSN Messenger, but it expands that capability to speak to four other people at once instead of just one. It can also be used for slide show presentations similar to Flickr, but these slide shows can be narrated or set to a soundtrack. Thirdly, it can be used to show presentations like PowerPoint, but online, at any time, and on any platform.
PalBee fills the gap between expensive face-to-face meetings with international associates and the impersonal nature of email. You can use PalBee for work - in marketing, sales meetings and conferences. You can use it at school to present or view lectures, school projects, and for online tutoring. You can use PalBee in your personal life for contacting your friends and family and sharing photos. The applications of PalBee are endless.
Palbee as Presentation Tool
PalBee is a video conferencing service that allows up to five people anywhere in the world to speak, see, draw, type and share visual aids with each other for up to one hour. Its flash-based web interface requires no downloads, no installations, and is truly cross-platform, working on any computer system that can access the Internet. Users can record these sessions and view them later at any time. Recorded sessions can also be embedded into a web page or blog in the same way that YouTube videos are. For a small fee, its capabilities can be extended to support up to nine people for an unlimited amount of time.
Free Recording
PalBee has been developing rapidly. The company recently announced a free recording option for its video conferencing sessions, adding a new dimension to their web service. Users are able to record their presentations with all the trimmings - PowerPoint slides, custom graphics, sound, and video - from the comfort of their own desk. These presentations are then immediately accessible for viewing anywhere the Internet is available. "At PalBee, you can come alone and record your webinars, presentations, or lectures," said Albert Kim, CEO of Zenitum Entertainment Computing. "This format of delivering a message, presentation slides with video and audio, is very effective over the Internet, especially for marketing and education."
Palbee as tool for Educators
PalBee is an excellent tool for educators. Professors can record their lectures using any combination of voice, video, graphics, and PowerPoint slides. Their recorded lectures can then be embedded into their personal web pages in the same way that YouTube movies are embedded now. Teachers can also use the video conferencing feature in concert with the Mashup API to give students the benefits of a face to face meeting conveniently at home.
Palbee as tool for Business
PalBee is a tool for business. Businessmen who are separated by distance can hold free, virtual face-to-face conferences at the comfort of their desks with the aid of that indispensable tool of business - the white board. Planning sessions can go more smoothly when all parties involved have access to the same space and mouse-driven drawing tools. Using the Mashup API, companies can embed customer service windows into their web sites to communicate more effectively with their customer base using voice, video, and diagrams.
Palbee as tool for Marketing
PalBee is a tool for selling your products. The recording function enables public relations personnel to present their products to larger audiences than ever before possible. An embedded press presentation or investor relations speech is just the thing to add personalized and relevant information to a corporate web site.
Palbee as tool for Personal Communication
PalBee is a tool for connecting with your friends and family. At its most simple, the video conferencing is a good way to speak to your friends and family members no matter where they are in the world. The recorded presentations are excellent for creating narrated slide shows to explain your latest photos better than any text caption can.
About Zenitum Inc
Zenitum is a next generation Internet communication service and solution developer headquartered in Seoul, South Korea. The company dedicates to develop unique solutions based on computer vision, 3D graphics, and video technologies.
For more information, please contact:
Zenitum Inc.
Matthew Weigand
Manager, Media Relations
Phone: +82-2-508-8856
Mobile: +82-10-5877-3561
Matthew(at)zenitum.com
###