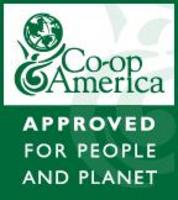 Who says you can't have high style and still save the planet?
Fort Lauderdale, FL (PRWEB) November 23, 2007
ecosource (http://www.ecosourcehomeandgarden.com) is moving forward with renewable, sustainable green goods for the home and garden. Now they have received Coop America's Green Business Network seal of approval for being one of 2007's progressive business leaders solving today's tough social and environmental problems. The recognition and listing at Greenpages.org, identifies ecosource as a committed green business and member of Co-op America's Business Network.
Passing Co-op America's strict screening process (and displaying the seal) means conscientious, values-driven consumers can easily identify ecosource as a green business helping to grow the marketplace, promoting healthy communities, preserving the environment, and delivering quality products.
About ecosource Home & Garden
ecosource Home & Garden provides retailers with an array of planet friendly products for a healthy home and garden, bed and bath and body and soul. Our focus is on sustainable and renewable green goods. Our products make it easy and affordable for consumers to make choices that do no harm...or even better, that nourish the Earth. As seen on HGTV and HGTV Marketplace (marketplace.hgtv.com), our greenPots line and Enviro Collection feature a wide range of biodegradable, decorative pots that are all natural, made from renewable materials. Available in both "modern" and "classic" styles and a wide range of colors, the pots are well-suited for any environment including extreme heat, cold and
humidity.
"Who says you can't have high style and still save the planet?" says Rose. ecosource will be adding more products for the home and garden in the near future.
For more information about ecosource, visit ecosourcehomeandgarden.com or contact Chuck Rose at 954-636-4826. GREEN is no longer just a color. GREEN is a lifestyle.
About Co-op America's Green Business Network
As Co-op America enters its 25th anniversary year, they are celebrating the huge explosion of green business. Currently with 60,000 members, Co-op America's mission is to harness economic power--the strength of consumers, businesses and the marketplace--to create a socially just and environmentally sustainable society. They are the nation's leading non-profit educator on socially and environmentally responsible consumption and investing.
The Green Business Network™ is the green business program of Co-op America, the oldest, largest, and most diverse network of consumers and investors in America dedicated to growing the green economy. Identifying small- to medium-sized green businesses, the network provides the tools and information to help them emerge and succeed in today's intensively competitive marketplace.
For more information about Co-op America and the Green Business Network, visit coopamerica.org or call (800) 58-GREEN.
###