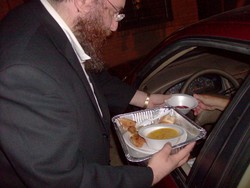 to be devoted by the people of these States to the service of that great and glorious Being who is the beneficent author of all the good that was, that is, or that will be.
Lakewood, New Jersey (PRWEB) November 21, 2007
While many communities across the nation gear up to feed the needy and homeless on Thanksgiving, a small religious community in Lakewood, New Jersey opens it arms to visitors every day, serving a hearty gourmet five-course meal to those in need.
The American tradition of Thanksgiving dates back to mid-summer 1623, after the pilgrims survived a particularly harsh winter, yet found that was food sufficiently plentiful to survive. The celebration took place on July 30, and colonists even invited the Indians for the feast.
In 1789, George Washington issued the first National Thanksgiving Proclamation, assigning November 26 as a national holiday, "to be devoted by the people of these States to the service of that great and glorious Being who is the beneficent author of all the good that was, that is, or that will be."
While considered to be a secular occasion by most, this tradition of giving thanks to a Higher Power dates back much further than the pilgrims. The first prayer learned by a Jewish child is recited by heart the moment they open their eyes. The Modeh Ani begins, "In your presence I give thanks, living and sustaining God...." and starts each day of their life.
The Bible also records in Deuteronomy that following the exodus from Egypt as slaves, the Jews were instructed "You shall also love the stranger, for you were strangers in the land of Egypt." It is no wonder, then, that the Jewish community in Lakewood opens its arms to a plethora of needy visitors each day and feeds them as their own.
The brainchild of two local businessmen, Rabbi Fischel Todd and Menachem Kantor, and the administrator of the Bais Yaakov Elementary School, Yosef Posner, open the school building on the corner of Fifth Street and Madison Avenue each night to visitors from vast parts of the globe, many speaking little or no English at all.
While the Soup Kitchen primarily serves members of the local and surrounding communities who would otherwise not afford or prepare a healthy meal, no one is turned away. Some Soup Kitchen guests come to Lakewood to secure donations to take back to their own countries, and some arrive because there is nowhere else to go.
One visitor, who traveled from a small Eastern European town, told Rabbi Todd, "We come here to a strange country, having left our homes and our children, to help support many families who cannot exist on the meager incomes they receive. No one can imagine how hard it is to collect, but you have given us the strength to continue this difficult task."
The Soup Kitchen's guests are attended to by volunteers from the community. Parents often bring their children, who learn at the elementary school during the day, to teach them the important of giving. By their own admission, most receive more from their guests than they have given themselves. Every person is greeted with warmth and respect.
Rabbi Todd explains that he continues to be humbled by this experience, "I have to double my efforts to help all those who come. It is difficult to imagine how much suffering every one of these hundreds of people must endure. As a matter of fact, it is I who must thank them, as well as all those who are helping us in this endeavor."
The Lakewood Soup Kitchen, Bais Hatavshil, is now open from 5:30 pm to 9 pm, seven days a week, but their goal is to be able to prepare not one, but three full meals each day, and are looking for donations to help bring it to fruition. Because in Lakewood, New Jersey, Thanksgiving is not just one day a year -- it's a way of life.
Contact:
Rabbi Fischel Todd
Bais Yaakov Elementary School
Lakewood Soup Kitchen / Bais Hatavshil
419 5th Street
Lakewood, NJ 08701
732-370-3344
###