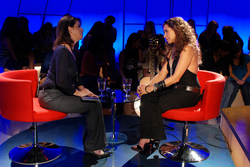 When an artist really believes in what she's doing, that's when barriers can be broken and hearts touched
(PRWEB) November 26, 2007
Who: Fresh from winning her latest Latin GRAMMY, Brazilian singer-songwriter, Daniela Mercury appears on V-me's Estudio Billboard – November 27 at 10:00pm(ET) and encore on December 2 at 8:00pm.
As a musical innovator, Daniela Mercury has taken her unique samba-reggae around the world. "When an artist really believes in what she's doing, that's when barriers can be broken and hearts touched," says Mercury, and whether selling over ten million records worldwide, or serving as a UNICEF/UNESCO Ambassador, she has touched many.
On Estudio Billboard, Daniela Mercury describes her creative process, and discusses how she was the first women to be the lead singer in Bahia's carnival.
"I'm married to music and I've always been in love with it and with the people too." In addition to performing selections from her last album, Balé Mulato Ao Vivo, and her song Ilê Pérola Negra - [Black Pearl], she teaches host Leila Cobo how to dance samba and gets the live studio audience into the act.
What: Estudio Billboard is a new music and interview series developed by V-me in collaboration with Billboard Magazine and hosted by Billboard's Leila Cobo, the ultimate Latin music insider. Taped before an intimate live audience, Latin artists reveal new insights into their lives, careers, musical influences and much more.
Where: Presented locally by public TV stations and carried on basic digital cable in many U.S. cities and nationally on DIRECTV and DIRECTV Más Ch 440, DISH Network Ch 9414 and DISHLatino Ch 846. To find specific channel information for your market visit http://www.VmeTV.com
For more information, contact:
Natalie Judd
203.389.5223
njudd(at)dex-p.com
Wilson Guzman
646-747-8821
wguzman(at)dex-p.com
###