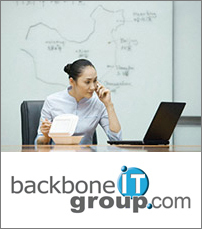 Our specialist in-house teams in the UK and China are able to overcome these problems for clients
(PRWEB) November 27, 2007
Following the recent announcement from the World Bank that China's economy is set to grow by 10.8% this year, BackboneITGroup.com has launched an Internet marketing service specially designed for Chinese businesses targeting Western markets.
The new service, which includes the creation of an English-language website and search engine optimization (SEO), opens up the potential of the US and European online sectors to thousands of companies in China keen to take advantage of a worldwide Internet retail market estimated to be worth over $500 billion.
BackboneITGroup.com, a UK-based company who recently launched a similar solution allowing Western businesses to market themselves online in China, have positioned themselves as a gateway both into and out of the growing Chinese economy.
"Our office in Nanjing, China, where we've been since 2004, has given us a detailed knowledge of the local market," explains Andrew Clarke, Director.
"Combined with our experience of Western search engine optimization, where we've achieved top Google rankings for some of the most competitive search terms in the industry, we're ideally placed to build online brands for customers in either market," continued Andrew.
The company has recently established a new Sales and Marketing department in the Nanjing office, taking their complement of staff to over 100 employees.
Many Chinese businesses have struggled to build a meaningful presence on Western search engines, frustrated by the language barrier and different search marketing practices.
"Our specialist in-house teams in the UK and China are able to overcome these problems for clients," says Yin Cuiyun, Head of Operations in Nanjing "…with a web presence in the local language and a promotion strategy fully tailored to the URL," she adds.
In addition to an optimised English-language website, customers will also enjoy the benefits of Backbone's conversion rate optimization; a process which increases the number of website visitors converted into sales or enquires.
The service has attracted great interest in China and BackboneITGroup.com are already in preliminary negotiations with several Chinese companies looking to develop international trade.
Full details on the Chinese search marketing services are available at http://www.backboneitgroup.com (English) and http://www.backboneitgroup.cn (China).
About BackboneITGroup.com
Backbone IT Group was founded in 1999 and provides search engine optimization, Internet marketing and software development services to clients worldwide.
The company has offices in offices in Lancaster (UK) and Nanjing (China).
###