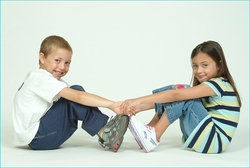 A program such as Ready-Steady-Move is so important especially these days, when children spend so many hours in front of a TV or computer screen
London (PRWEB) November 28, 2007
Ready-Steady-Move (RSM) activities promote the vital 'Mind-Body Connection' in children that stimulates both right-side and left-side brain functions to facilitate increased language learning, along with better physical health. RSM is a fun, energetic and natural way of learning a second language through interactive movements, games and dancing; all to original music and songs. RSM teachers are qualified movement specialists, incorporating activities based on yoga, martial arts and dance techniques.
"A program such as Ready-Steady-Move is so important especially these days, when children spend so many hours in front of a TV or computer screen", explains Andrea Lang-Raz, co-author of the Ready-Steady-Move program. "So far, we've run two successful RSM pilot programs simultaneously; in Israel and in Italy. Both have been very well received. In Italy RSM was represented in the renowned 'Fitness Festival' in Florence; the largest of its kind in the world. In Israel, RSM was one of the most popular school programs ever. In its second year we expanded from 15 kindergartens to 25, and saw an additional 300 children in the first grade enjoying their second year of RSM.
Andrea proudly announces that RSM is ready to expand worldwide. "We've been approached by schools and kindergartens from around the world interested in this unique movement through English program with its quality pedagogic-based learning materials, comprehensive teacher support, and highly effective language learning system. The RSM program was developed within the successful Helen Doron Educational Group (est. 1986), creators of quality Early English and Maths learning programs marketed worldwide. Designed to bring out the very best in each individual child through encouragement and fun, Helen Doron educational programs also uphold rigorous standards of academic excellence.
British-born Helen Doron is an internationally renowned linguist with an MA in Linguistics who worked as a lecturer at Poiters University, France, and has devoted the last 22 years of her life to developing methodologies and materials for teaching English to babies and children. Andrea Lang-Raz has an MA in Movement and Education from Columbia University in NYC and over 15 years experience in the field. Their collaboration in developing Ready-Steady-Move ensures it is a program of the highest calibre. RSM is brimming with age-relevant activities that promote pleasure in acquiring new language skills and proper physical development by using the 'Mind-Body Connection' to enhance motivation and build confidence.
The Helen Doron Group serves children and youth around the world through a range of uniquely inspired enrichment programs that have provided quality, age-appropriate learning enhancement and social development for over 20 years. The revolutionary Helen Doron Early English learning method, the MathRiders mathematics learning system, and the Ready-Steady-Move program, all distinguish Helen Doron Ltd. as a global leader in early education; with over 2,500 active Teachers, 420 Learning Centres and 35 Master Franchisors, teaching students worldwide.
View our image video on our website at: http://www.ready-steady-move.com
Contact Details:
Phone: +972 (0)4-9027912
Fax: +972 (0)4-9990543
###