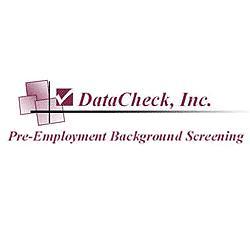 Companies who thoroughly pre-screen job applicant's past employment work history, education, and check for criminal records, have reduced employee turn-over in the workforce and helped avoid negligent hiring lawsuits, thus saving thousands of dollars
San Juan Capistrano, CA (PRWEB) November 28, 2007
From small family owned businesses to fortune 500's, many employers are turning to background checks to obtain valuable information to help make accurate decisions in the hiring process. To enhance security and safety in the workforce or to uncover untruthful resumes and falsified employment applications, pre-employment screenings have become widespread among businesses.
In today's day and age it's critical for a company to understand whom they are hiring to prevent major problems in the future. In checking the background of a potential employee, DataCheck's searches cover a wide variety of areas including reference checks with personal and business acquaintances, criminal records, driving records, and credit reports. Since most employers do not have the time or resources to complete thorough background checks, it is important to gain peace of mind and hire a background- screening firm.
"With a steady increase in the number of companies now routinely doing background checks on prospective employees, DataCheck Inc. is making various changes to better serve our clients," says Beth Miller, President of DataCheck Inc.
The company's recent move has allowed DataCheck Inc. to streamline a variety of daily operations, including handling a higher volume of business, providing more efficient customer service and the ability to meet the demands of new and existing clients at a faster rate.
"Companies who thoroughly pre-screen job applicant's past employment work history, education, and check for criminal records, have reduced employee turn-over in the workforce and helped avoid negligent hiring lawsuits, thus saving thousands of dollars," says Miller.
Since 1996 DataCheck Inc. has helped protect businesses all over the country. The pre-employment background checks the firm provides have saved small and large companies time and money. As the market grows for pre-employment screenings, DataCheck Inc. continues to expand its services.
Company Information:
DataCheck Inc. is a full service background screening company dedicated to customer service and specializes in obtaining relevant information through background checks on a statewide and national level. DataCheck, Inc. is a founding member of NAPBS, the National Association of Pre-Employment Background Screeners and is an authorized affiliate of NBD, National Background Data.
Their services include past employment and education history information, background investigations for driving history, credit reports, drug screening, social security trace, criminal records and many more services. The company has been assisting a wide array of business sectors, such as manufacturing, medical, mortgage, retail, executive staffing, financial, hospitality and the food service industry.
For more information and price quotes on services please visit, http://www.datacheckinc.com
###