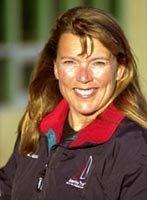 I am delighted to represent ClearPoint Weather around the world
Paris, France (PRWEB) November 27, 2007
ClearPoint, the world's most comprehensive high resolution global weather service, today announced an agreement with Dawn Riley, the first woman to manage an America's Cup sailing team and the current Chief Executive Officer of the America True Foundation. Dawn Riley is the first American to have raced on three America's Cup teams and two Whitbread Round-the-World Race sailing teams and is also past President of the Woman's Sports Foundation.
Riley will make her first appearance as ClearPoint spokesperson at the Paris International Boat Show, Dec. 1-9, 2007, where ClearPoint is exhibiting its High Definition Weather service (Booth D42, Hall 2.1). The principal themes for the Paris show this year are women sailors and the environment. ClearPoint's weather service offers high resolution weather data worldwide with resolution accurate to the nearest nautical mile in sailing "hot spots" around the world.
Dawn Riley was most recently General Manager of AREVA Challenge, the French America's Cup team for 2007. She captained the 2002 IC 45 World Champion, K Challenge 1, and was the first two-time winner of the Santa Maria Cup. Riley was also team captain of America3, the historic all-women America's Cup team in 1995. She was a member of the winning America's Cup team, America3 in 1992. Off shore, she sailed on Morning Glory, setting the all time course record in the 1996 Sydney to Hobart ocean race, and was watch captain of Maiden and skipper of Heineken, the all-women teams in the 1989-90 and 1993-94 Whitbread Round the World Races.
"I am delighted to represent ClearPoint Weather around the world," said Riley. "ClearPoint gives sailboat racers what they need. It's like having an expert weather team at your fingertips, brought to you over the Internet. Now all sailing and boating enthusiasts will share the ability to make informed weather decisions based on accurate, real-time, location-specific data, anywhere they sail," Riley said.
Dawn Riley is not only a world class sailboat racer, but also an accomplished businesswoman, community leader and youth sports advocate, author, speaker, TV commentator and committed philanthropist, and is actively involved with the Women's Sports Foundation and The America True Foundation which is dedicated to providing youth with the opportunity to benefit from sailing. She is an advisory board member of the National Women's Sailing Association and a founding member of the Women's International Match Racing Association.
"Dawn's experience and reputation as a sailing champion in the global sailing community will help us spread the message about the new ClearPoint service to sailors and boaters everywhere," said Stuart Johnstone, Chief Operating Officer, ClearPoint. "We are very glad to have a great communicator like Dawn promoting ClearPoint's advantages to young and experienced sailors alike."
To view a clip of Dawn Riley talking about ClearPoint Weather go to the following URL: http://www.youtube.com/watch?v=TPL0wVoUwc8
About ClearPoint High Definition Weather ™
ClearPoint High Definition Weather is the world's most comprehensive and easy to use ultra high-resolution global weather information service for sailboat racers, cruisers, fishermen, yacht clubs, marinas, resorts, and weather-trackers, worldwide. ClearPoint offers real-time, accurate weather data for advanced weather decision-making. Headquartered in the Washington D.C. metropolitan area, TrueNorth Global Inc. launched its ClearPoint weather service in 2007. Additional information can be found on ClearPoint's website at: http://www.clearpointweather.com.
CONTACTS:
Matthew Piette
ClearPoint
1 512 736 8316
Dawn Riley's key life accomplishments include:

4 America's Cups -
2 Whitbread Round the World Races
World Champion - 2003 One Ton Cup
World Champion - Women's World Cup 1992
Rolex Yachtswoman of the Year 1999
Author, "Taking the Helm" and many articles
Television host and commentator: OLN-TV 2002 and 2003, ESPN shows
Professional speaker: over 100 minor and major corporations
Michigan State University - Alumni of the Year
Michiganer of the Year, 1999
© 2007 TrueNorth Global Inc., ALL RIGHTS RESERVED. ClearPoint Weather, ClearPoint High Definition Weather, and ClearPoint Racing Edition are trademarks of TrueNorth Global Inc.
###