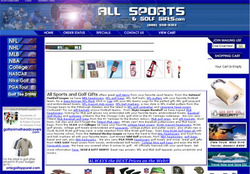 We have all the teams that most stores do not have
Saint Charles, IL (PRWEB) November 29, 2007
When it comes to shopping for golf products and accessories, thoughts of argyle patterns and pastel colors may come to mind. Going against the norm by offering golf merchandise for the golf enthusiast who also happens to love baseball, basketball, football and other sports, AllSportsandGolfGifts.com has added a wide selection of golf items to their inventory showcasing MLB, NFL and NCAA teams as well as the NBA and NHL teams they already carry.
"We have all the teams that most stores do not have," says Owner Doug Janchik. "Not only do we carry the largest selection of licensed golf merchandise online, but customers will find the MLB, NFL, NCAA, NHL and NBA golf products they are looking for. They won't have to search all over the Internet for the NFL putter they want because they'll find it here, along with much more. Our customers who love golf and other sports will find the best of both worlds all right here in one store."
The selection at AllSportsandGolfGifts.com ranges from NFL golf umbrellas to MLB golf grips and more. Customers can browse the store and find MLB golf bags by Titleist, shoes, headcovers, gloves, embroidered towels, putters, ball markers, balls and more, all branded with a favorite professional or college sports team. Find an NFL putter, MLB golf balls, NCAA mascot headcovers, NHL divot tools and NBA backpacks, all in one place. AllSportsandGolfGifts.com also offers gift baskets that include several items representing one team.
All products at AllSportsandGolfGifts.com are in stock and ready to ship. Offering extremely fast shipping and multiple avenues for secure ordering, customers receive their orders quickly and efficiently. An easy to navigate website and clearly marked categories make shopping for an NFL putter and other golf products at AllSportsandGolfGifts.com even better. Backed by a team dedicated to providing excellent customer service, AllSportsandGolfGifts.com stands out among other golf merchandise retailers.
"Customer service is one of the highest priorities at AllSportsandGolfGifts.com. We operate as a detail-driven company making sure we meet and exceed our customer's expectations for quality, selection and the experience they have when shopping with us," says Janchik.
For more information about their store and their products, please visit AllSportsandGolfGifts.com.
About AllSportsandGolfGifts.com:
A self-proclaimed Internet guru, AllSportsandGolfGifts.com owner Doug Janchik is proud to oversee the operations of the largest retailer of licensed golf merchandise and accessories on the Internet. In business for eight years, AllSportsandGolfGifts.com sells a wide range of licensed golf products featuring sports teams from the NFL, NCAA, MLB, NHL and NBA.
###