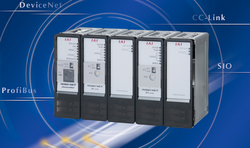 Torrance, CA (PRWEB) November 30, 2007
IAI America introduces the ROBONET, a new type of controller that freely operates robot cylinders via a field network. This makes it possible to greatly reduce wiring and installation time compared to conventional controllers. These units are smaller and make use of DIN rail installation so it can be fastened and removed with one touch.
ROBONET features reduced wiring thanks to the ability to connect each I/O cable to lines wired to the PLC terminals on the field network. The controller wiring is also simplified because each unit can be coupled by just connecting them to the unit connection board.
Besides the usual method of moving a robot to pre-set positions, it is also possible to control the robot by sending information as a string of numeric data that contains position, velocity, acceleration, and other values. This is effective for cases such as when the move position needs to change for different parts or when it is necessary to move the robot to an arbitrary position.
Each unit is an ultra-compact size of 34mm wide x 100mm high x 73mm deep. These controllers take up little space for installation even if there are many units since there is no base unit and the main unit is coupled with connectors.
Users can select from a range of different types of ROBONET controllers for different robots via DeviceNet, CC-Link or ProfiBus. There is also the simple absolute R unit that makes it possible to operate incremental specification axes without returning to the home position. The actuator encoder data is backed up even if the power is cut off.
Technical CAD drawings, PDF files and data sheets detailing the measurements and specifications of the ROBONET are available for download at the website or by requesting the new ROBONET Catalog.
IAI America - Intelligent Actuator is a member of is a member of the RIA, SEMI, and AHTD organizations. IAI Manufacturers a full range of IX Scara Robots, Linear Actuators, Electric Actuators, Robo Cylinders, Table-Top Robots, Controllers, Cartesian Robots, Single Axis Robots and Linear Positioners.
IAI America is ISO 9001 certified, and its products conform to European RoHS directives. IAI America distributes throughout the USA and worldwide.
For more information, please contact IAI at (800) 736-1712 or visit http://www.intelligentactuator.com.
# # #