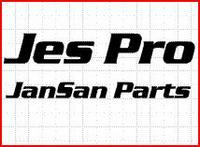 Atlanta, GA (PRWEB) November 30, 2007
JesPro reduces cost of repair and maintenance parts for common Janitorial and Sanitation equipment by more than 50% for distributors and end users. Very significant price reduction with zero reduction in quality standards allows greatly lowered costs and higher profitability for janitorial contractors, building maintenance supervisors and end users.
How is this possible? Modern manufacturing techniques and the latest in computer aided design allow the production of high grade janitorial repair and maintenance parts at vastly lower prices. Our engineers work closely with designers and manufactures to enable high quality at the lowest cost.
Using new technology allows the production at a fraction of the cost of traditional sources, a local dealer or repair shop. 50% savings are seen on our most commonly purchased items, and average savings range from 40% to 70%. Significant reduction in the operating cost and overall TCO are expected.
Over 100 years of experience is employed by JesPro allowing the greatest in familiarity with the demands and weakness of traditional janitorial equipment and supply allowing a significant improvement in overall product value with zero reduction in quality.
In addition, deep relationships with major manufacturers and distributors allow the greatest in product availability beyond the custom products mentioned above.
End users using JesPro products simply cannot tell the difference between the OEM product at full retail price and the JesPro item at significant discount. Technicians familiar with the OEM item and the JesPro item report a higher quality, better materials and longer lifespan on the JesPro manufactured items. In addition, custom materials and processes are available for special orders.
To support this significant company a new website has been launched at http://www.jespro.com. This site allows online shopping using a highly secure site backed by one of the largest transaction processors in the world ensuring the highest in security for all transactions.
Integration with the largest shipping company allows the lowest possible shipping cost for all orders with free shipping and handling on any order over $150. There is no minimum order amount thanks to this highly efficient process.
Products are viewable using high quality pictures, detailed descriptions, parts cross referencing, search and detailed cataloging by manufacturer and model. This is the best janitorial shopping experience currently available!
JesPro represents a significant savings for all janitorial contractors, building maintenance supervisors and end users. It is simply the best choice for discount repair and maintenance parts.
For additional information on this press release (or for a sample, copy or demo), contact Dustin Trapani or visit http://www.jespro.com.
About JesPro:
JesPro is a privately held company based near Atlanta, Ga. Design, manufacturing, warehousing, customer support and shipping are at various locations throughout the southeast with corporate offices located in Cumming, Ga.
Contact:
Dustin Trapani, director of public relations
JesPro
404-428-2648
http://www.jespro.com
###