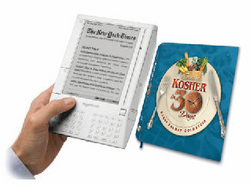 Kindle is a very natural fit for us. It is a solid platform built on a phenomenal distribution model
Miami, FL (PRWEB) December 3, 2007
Did you know that in addition to being the best-selling digital book-reader this holiday season, Amazon.com's recently launched Kindle is going Kosher, too? In addition to offering something for everyone -- from popular fiction to educational how-to's -- the online store is now offering a Kindle version of "Going Kosher In 30 Days," the recent best-seller of The Jewish Learning Group, an outreach publisher in Miami, Florida, taking Jewish learning on-the-go to the next level. Keeping with Kindle's online discounted pricing format, the title cost a nominal $9.95 to download onto the Kindle, a $13.00 savings off the $22.95 list price of the hardcover edition.
"Kindle is a very natural fit for us. It is a solid platform built on a phenomenal distribution model," said Rabbi Zalman Goldstein, founder of The Jewish Learning Group, and author of "Going Kosher In 30 Days." "We know our customers will appreciate having our self-help titles available to them in digital format to take with them wherever they go, and as always we are pleased to embrace emerging technologies to enhance Mitzvah knowledge and observance."
Goldstein plans to eventually launch all his company's fifteen "living Jewish" titles on Kindle. One hurdle he faces is getting Kindle to display Hebrew fonts and the vowels that sit under the letters for some of his books that teach Hebrew liturgy, prayers and blessings alongside easy-to-read English transliteration. Another challenge is whether or not to post titles meant for sue on the Sabbath or on Jewish festivals, like their popular "Shabbat Table Companion" which helps families know which blessings to recite at the Shabbat dinner, how to make the Kiddush, etc. The Kindle, being an electronic device, is forbidden to be used on the Sabbath.
"Ultimately we're about education," explains Goldstein, "and the process of teaching and learning is forever ongoing, including during weekdays. If we did our job correctly, by the time Shabbath arrives our readers should know the prayers and blessings anyway, and will set the Kindle aside, appreciating -- perhaps for the first time -- the underlying reasons for the way the Jewish Shabbath or festival is properly observed and sanctified, as it has been for thousands of years."
The Jewish Learning Group's innovative self-help books are used in many synagogues and homes. Its "Passover Seder Table Companion/Haggadah" has been used by White House staff for the past five years, and its recently launched "Say-A-Blessing Electronic Keychain" which helps people recite the correct blessing over food has received critical acclaim. Products of the Jewish Learning Group are available directly from the publisher http://www.jewishlearninggroup.com, on Amazon.com, or through Merkos Publications - Chabad at kehotonline.com.