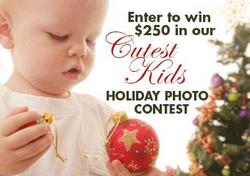 create memorable celebrations for family and friends.
Garden City, NY (PRWEB) December 4, 2007
As parents begin to send out holiday cards--many with adorable photos of their kids--http://www.CelebratewithStyle.com is offering parents the chance to win $250 by uploading those terrific photos to enter the site's free "Cutest Kids Holiday Photo Contest."
Parents can send individual or group pictures of the kids. Moms and Dads are invited to upload "a picture that you would use on a holiday greeting card (whether you're sending them out or not!)"
"It's OK if the submitted pictures are posed or spontaneous, taken a week ago or last summer," said Celebrate with Style publisher JoAnne Alter. "We just want proud parents to show the kids at their cutest--as they would want friends and loved ones to see them. We're hoping that parents will share the photos they love to look at and that make them smile."
Celebrate with Style will select a group of finalists from all of the contest entries and post them in a "Cutest Kids Holiday Photo" gallery. Site visitors will vote for the winner and determine which child or group of children will be named "Cutest Kids" for this holiday contest--and which Mom or Dad will win the $250 prize.
Deadline for submitting photos: December 28, 2007.
Photos of finalists posted: December 29, 2007.
Voting through: January 4, 2008.
Winner announced: January 7, 2008.
Contest details can be found at http://www.celebratewithstyle.com.
Important note: For this and all Celebrate with Style contests, entry is absolutely free. There is no purchase necessary, and no up-front or hidden fees. Just as important, Celebrate with Style will not ask photo contest entrants to submit personal information or share contact details with third parties.
About CelebratewithStyle.com:
CelebratewithStyle.com is dedicated to helping readers "create memorable celebrations for family and friends." The site focuses on holidays, milestone birthday parties and anniversary parties, other wonderful family events, and fun get-togethers with friends. CelebratewithStyle.com also provides how-to tips on creating successful fundraising, social, and business events. The site offers expert advice on party food, fashion, and décor. It also provides party-planning tools for kids' birthdays, coming-of-age celebrations, and wedding-related festivities.
###