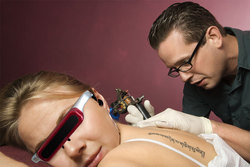 The most difficult thing about tattooing is that the tattoo artist works on a living canvas
Amsterdam (PRWEB) December 6, 2007
Getting tattooed used to be the exclusive domain for bikers, rock stars, military types, and other rough ones. Nowadays tattoos have gone mainstream. A study done last year by the Pew Research Center shows that 40 per cent of 26-to 40-year-olds have at least one tattoo. Perceived as a symbol of rebellion, a firm statement about ones personality it attracts many. At the same time traditional disadvantages are fading away. Removal is possible thanks to the latest laser technologies and new ink sorts. The hurdles left, the time it takes and the expected pain during the tattoo process, have also been lowered lately. Distraction from this focus on pain and time with video glasses that deliver a true audiovisual cinema experience, now opens the door of the tattoo shop also for less tough guys.
Time and painkiller
"The most difficult thing about tattooing is that the tattoo artist works on a living canvas", says Rytch Soddy, a successful English tattoo artist and one of the owners of Sith Tattoo Studio. "Getting a tattoo without feeling any kind of pain is an illusion, but if we can facilitate to get the customers' focus away from pain towards pleasure, we should definitely do it". "The tattooing process can take from one to even more than eight hours when a complex drawing is involved". A good pair of video eyeglasses is a compelling idea and let me concentrate on my work of art without spending too much attention in trying to maintain the customer at ease". "My customers want to remember my sweat work, not my sweat words", summarizes Rytch Soddy.
Newest video eyewear
Video eyewear has been on the market for years and the specifications have improved dramatically lately. Now the immersive virtual screen that the patient sees is an image of almost 1.5 metres at a distance of three metres, in VGA resolution. Adjustments of the nose support lead to optimum comfort levels. The newest generation video eyewear has, along with a modernized look, become smaller, less bulky and weights only 65 grams.
RelaxView 6.0 Tattoo Pack
Exclusively for the tattoo market, relaxView B.V. assembled a distraction package that suits the needs of the tattoo artist and his customer. The latest premium pair of video glasses, together with a portable DVD player, model Discman and a disposable hygiene set makes the tattoo shop a more relaxed place to be. Further information is available on relaxview.eu
Supportive photo material:
Low resolution web photo
Click here for the web photo of pain distraction with video glasses at tattoo shop
High resolution photo (300 DPI)
Click here for the 300 DPI photo (jpg, 177 Kb) of pain distraction with video glasses at tattoo shop
Click here for the 300 DPI photo (TIF, 8.3MB) of pain distraction with video glasses at tattoo shop
About relaxView B.V.
Founded in 2005 and operating from the Netherlands, relaxView B.V. is a leading provider of high-quality video eyewear solutions. As an independent provider relaxView B.V. is able to select the newest video eyewear that no longer has to compromise between tiny images on a small screen or larger images on a heavy screen to get a true large-screen experience.
###