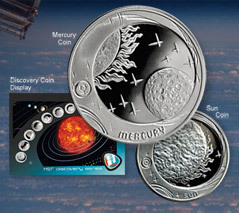 We create art in small quantities for a passionate group of collectors who love space exploration as much as we do.
Los Angeles, CA (PRWEB) December 10, 2007
Discovery Collectibles, an exclusive creator of rare coin lines focusing on space exploration and discovery, today announced the release of a highly limited collection of 10 brilliant silver nickel uncirculated coins celebrating the work of NASA and the amazing odyssey of the Hubble Space Telescope.
This first collection of 10 coins focuses on the eight planets in our solar system. This commemorative coin collection includes an extremely rare Pluto coin, the last Pluto-Hubble coin approved by NASA before the planet was decommissioned in 2006. It also includes a remarkable Sun coin, striking in its powerful, kinetic design.
Inspired by the "NASA and JPL 50th Anniversary Commemorative Coin Act" which authorizes the US Mint to produce a $50 gold coin with an image of the Sun and nine $1 silver coins each representing one of the nine planets in our solar system, Discovery Collectibles worked with NASA to create a coin line that complements the anniversary and celebrates one of the agency's greatest accomplishments in the [Hubble Telescope].
"Minting coins is a distinctive way to honor 50 years of dedicated service by the men and women of JPL and NASA," said Representative Adam Schiff, who was a co- sponsor of the Act.
Only 1000 complete sets of the HST Discovery Collection have been minted worldwide. According to NASA a total of 30 designs in all have approved which will focus on Hubble Discoveries in deep space and some of the new coins will also include material from deep space as well. One of the coins in the following set will include pieces of meteorite and flown metal from NASA spacecraft.
All the coins in the current and future HST Discovery Collection were hand designed by sculptor Alex Shagin, a Russian born designer who was awarded the fabled American Numismatic Society J. Sanford Saltus Award for Outstanding Achievement in the Art of the Medal in 1995. Mr. Shagin's work is displayed in some of the world's greatest museums such as the National Air and Space Museum, the Hermitage Museum and the British Museum Permanent Numismatic Collection.
About Discovery Collectibles
Discovery Collectibles creates only very limited quantities of coins and collectible objects and had focused on niche collecting opportunities in the space and science sector. Located in Los Angeles, California, Discovery Collectibles also owns NASACOINS.COM where you can find their most recent product lines. "We create art in small quantities for a passionate group of collectors who love space exploration as much as we do." said Garret Cheves, DCI's CEO, "We are the science and space geeks of the coin collecting world. Our enthusiasm to create unique and valuable collections comes from our personal interests so we come by it honestly!"
For more information on the NASA collectible coin collection visit: http://www.nasacoins.com .
###