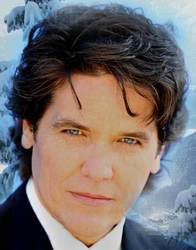 Studio City, CA (PRWEB) December 12, 2007
Caption Records is experiencing a hectic end-of-year pace, as the promotional push for Michael Damian's holiday favorite, "Christmas Time Without You" gains momentum.
This track is truly receiving coast-to-coast attention, spinning on adult contemporary stations from Los Angeles (KOST) all the way to New York (WHUD).
"Christmas Time Without You," is the featured track from the album, "Michael Damian and Family - The Christmas Album", which is a complete family effort, with more than 20 of Damian's family members contributing to this unforgettable Christmas CD.
Damian is already well-known for his role as Danny Romalotti for 18 years on The Young and the Restless, his starring Broadway role as Joseph in Joseph and the Amazing Technicolor Dreamcoat and for his Billboard #1 hit single, "Rock On."
Damian's latest venture is as the director, co-producer, and co-writer of "Moondance Alexander", starring Kay Panabaker, Lori Laughlin, Don Johnson, James Best, and Olympic figure skater-turned-actor Sasha Cohen. Moondance Alexander, based on a true story, won the award for "Outstanding Achievement in Filmmaking" at the 2007 Newport Beach International Film Festival.
The Moondance Alexander soundtrack features artists from Caption, such as Disney Stars Tessa Ludwick and Monét Monico. Both the soundtrack as well as "Michael Damian and Family - The Christmas Album" were produced, engineered and mixed at Studio City Sound by Grammy Award winner Tom Weir, who is nominated again for a Grammy for his recent work with Toots and the Maytals.
Laura Wight, a Caption artist, is gaining attention from her single, "I Choose You," also on the Moondance Alexander soundtrack. The song features great musicians including Josh Freese (Sting, Nine Inch Nails, Evanescence), Tim Pierce (Faith Hill, Avril Lavigne, Kelly Clarkson), and Matt Laug (Alanis Morissette). "I Choose You" is now in rotation at KPEK (Albuquerque, NM), KCHX, WMXO and many more.
Caption has also released a holiday version of "Got It All With You" from country artist Buck McCoy. The single recently went #1 on the STS and IMN Independent Country Charts and ranks in the Top 5 at New Music Weekly alongside Carrie Underwood and Garth Brooks. "Got it All With You" comes from Buck McCoy's debut album, Top Dog.
Earlier in 2007, Caption also scored radio success with tracks from "Teen Witch the Musical" including "Popular Girl" and "Finest Hour" performed by Sara Niemietz (featuring Blake Ewing).
Formed early in 2007 by Larry Weir, Tom Weir and Estelle Harrison, Caption has an exciting year planned for 2008, and will continue to work with Burnside Distribution and their digital distributor, InGrooves. For more information, contact Caption at (818) 505-9368 or online at http://www.captionrecords.com.
###