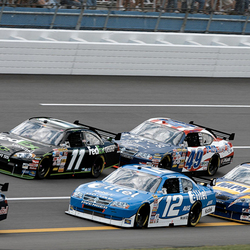 Our combined on-track/online program for BAM Racing sponsors will continue to evolve and grow with each new season
Charlotte, N.C. (PRWEB) December 18, 2007
BAM Racing announced today that sponsorship programs for the team's 2008 NASCAR NEXTEL Cup Series entry can now be purchased online on eBay and other websites. The offer is an apparent first in NASCAR history.
New sponsors who secure their program online by the pre-season deadline of December 31, 2007, receive a complimentary high-tech, turnkey activation package that focuses heavily on the online activation of their sponsorship and provides an integrated marketing campaign -- a concept unique within the high profile sport of NASCAR that boasts 75 million fans.
"The revolutionary new Diamond Sponsorship™ Program is sure to take off-track competition for sponsor acquisition and support to a whole new level," said Greg Keushgerian, President of Los Angeles-based Marquee Marketing Group LLC, an independent marketing company specializing in motorsports marketing campaigns and is working on sponsor acquisition.
"Before you can compete on track, you need to be able to compete for sponsorship money," said team owner Tony Morgenthau. "The more revenue you secure, the more competitive you can become. In order for us to beat the 'big guys' on the track, we have to beat them off the track first. Therefore, we've created the first high-tech online sponsor acquisition and support system in NASCAR."
The motorsports company is no stranger to melding online technologies with their on-track program. In 2005, the team launched a comprehensive sweepstakes campaign on behalf of then sponsor Schwan's. The online marketing campaign featured a weekly race newsletter emailed to all entrants with a built-in creative "refer-a-friend" component that helped grow the opt-in entry database over 4,200% that season.
The success of that program and the high-tech programming capabilities of their marketing partner ARMER Holding LLC (ARMER) made this aggressive new online initiative a natural next step. As this technology-based program was being developed in 2007, the NASCAR racer began providing sponsors with valuable banner and keyword ad space on existing ARMER properties like OBOVO.com and ZoneLoans.com as well as properties due for release in 2008 such as HealthLife.com and ExistSports.com.
"Our combined on-track/online program for BAM Racing sponsors will continue to evolve and grow with each new season," commented Larry Erdos, CEO of ARMER Holding LLC. "We believe strongly that leveraging two of today's mega-marketing forces like NASCAR and the Internet is the future of sponsorship in this sport."
The high-tech portion of the marketing campaign is undergirded by several patent-pending systems developed by the ARMER team and available exclusively in this program.. To protect their valuable proprietary applications, ARMER Holding enlisted renowned Internet patent attorney Edmond DeFrank to prosecute the patents on these and other proprietary applications. Mr. DeFrank has over 14 years of experience as both an engineer and attorney in the high technology sector working with clients like: Hewlett-Packard, IBM, Microsoft, Motorola, AT&T, NASA, UCLA, Raytheon, and other prestigious companies.
"After studying the various unique and proprietary business models and system applications developed by ARMER, I felt they had indeed created numerous valuable patentable inventions," stated Mr. DeFrank. "With regard to the applications being utilized exclusively by BAM Racing in their new sponsorship program, I believe these particular proprietary applications have the potential to not only revolutionize sponsorships in NASCAR but in other professional sports as well."
Diamond Sponsorship packages for the marketing campaign can be purchased online on the official team website for this program, http://www.49sponsor.com, as well as on associate sites and listings eBay and http://www.craigslist.com. The discounted introductory price of $4,995 is available online for a limited time from the regular price of $10,080 and is subject to change without notice. Interested parties can request access to the introductory offer if available on http://www.bamracing.com .
About BAM Racing
BAM Racing was formed by Beth Ann and Tony Morgenthau in 2001 and enters its seventh season on the NASCAR Sprint Cup circuit. Beth Ann Morgenthau, whose initials make up the team name, continues to be the only hands-on female owner in motorsports to have started a team without family connections. The Morgenthaus are investment bankers from Coral Gables, Fla. who specialize in positioning companies to reach their maximum potential. Their business acumen gives them a distinct advantage when it comes to providing maximum exposure and results for their sponsors. For more information, visit http://www.bamracing.com.
About ARMER Holding LLC
ARMER Holding is the parent company of ZoneLoans.com LLC, OBOVO.com LLC, HealthLife.com LLC, and ExistSports.com LLC, all of which make up ARMER's 2007-2008 Phase One property releases. ARMER Holding combines cutting-edge, high-tech development capabilities with decades of business and marketing expertise to design, develop, and deploy a network of high-end Internet properties and numerous patent-pending systems. Please visit http://www.ARMERHolding.com for more information. They are working with BAM Racing to offer these unique marketing campaigns.
Contact:
Melanie Hamilton
mhamilton(at)bamracing.com
(704) 794-8279
###