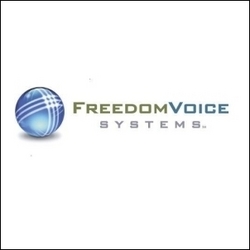 FreedomVOICE supplies all the maintenance and tech support thereby encouraging a lucrative yet relaxing lifestyle for our agents. We'll definitely be back at Channel Partners in March.
Encinitas, CA (PRWEB) December 18, 2007
FreedomVOICE Systems, a licensed telecommunications carrier specializing in virtual office and hosted telephone solutions to support small businesses, won a trade event exhibitor award at the Fall 2007 Channel Partners Conference and Expo, held at the Meadowlands Exposition Center in Seacaucus, NJ, Sept. 26-28.
Using the theme "Experience the Power of Freedom" to launch FreedomIQ, their new hosted VoIP PBX phone service, the FreedomVOICE booth was chosen as runner up in the Best First-Time Exhibitor category. There were 2,000 participants and 120 exhibitors at the telecommunications industry trade event.
"We are extremely proud of this honor," said Eric Thomas, CEO and founder of the 12 year-old company. "Our goal was to create buzz about FreedomIQ. We call it 'the intelligent phone solution' because our new hosted VoIP PBX phone service is flexible, affordable and incredibly easy to set up and use. Our booth was packed the entire show and it's nice to know our presentation was as attractive as the product."
According to Channel Partners officials, many elements of show participation were taken into consideration by the attendees who voted for booth award winners in five categories, including overall design, presentation and give aways.
According to company officials, the overall design of the 10 x 30-foot space was to visually highlight the impressions of power and freedom customers might experience with their business communications when using the product. The booth panels, featuring dramatic use of color and innovative imagery including silhouettes in front of a radiating starburst pattern, provided a vivid backdrop for live demonstrations on a large plasma monitor and several computer kiosks. In addition, coordinated brochures and a t-shirt giveaway were integrated into the company's presentation.
"As we were developing the design of our booth at this major first-time-for-us trade event, we consciously wanted to make attendees stop, look at our booth with dropped jaw and slowly smile as they nodded their approval," added Thomas. "We know FreedomIQ is revolutionary because we engineered it with our own proprietary technology and we wanted that vibe to echo throughout the show hall."
Leading trade publication Phone + magazine, official sponsor of the Channel Partners trade events held each Spring and Fall, will present the Best-in-Show awards at the Spring 2008 Channel Partners Conference and Expo, March 10-12 in Las Vegas.
Channel Partners is a major networking and educational event for indirect sales channels in the communications industry. Exhibitors use the forum to create alliances with independent agents, master agents, interconnects, wireless dealers, VARs/VADs, systems integrators and private-label resellers.
"We wanted to launch the product at Channel Partners because it is well attended by agents and communications consultants, the people who will make FreedomIQ thrive", said Thomas. "They are the innovators."
Due to the commission structure he established for FreedomIQ, Thomas said, there is the potential of a recurring income stream unavailable elsewhere.
"Not only can they make a significantly higher profit by offering the new hosted VoIP PBX phone service, they will also work less," he said. "FreedomVOICE supplies all the maintenance and tech support thereby encouraging a lucrative yet relaxing lifestyle for our agents. We'll definitely be back at Channel Partners in March."
About FreedomVOICE Systems
Founded in 1996, FreedomVOICE Systems (FVS) develops and markets a comprehensive slate of integrated virtual office tools that allow businesses and professional offices to interact more effectively with their customers, clients, patients and associates. FVS' feature-rich systems and flexible technology enable users to enhance their image, communicate seamlessly whether by
voice, fax or email, track marketing effectiveness and promote their service by increasing their availability.
The company offers a wide array of products and services from 800-number toll free services to hosted VoIP PBX and other advanced unified communications systems. For more information, please call 800-477-1477 or visit our web sites.
http://www.fvscorporate.com
http://www.freedomIQ.com
Contact:
Bruce Bond
FreedomVOICE Systems
800-477-1477 ext. 822
bruce@freedomvoice.com
###