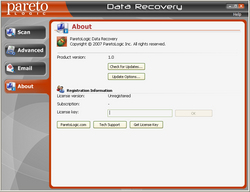 Victoria, B.C. (PRWEB) December 20, 2007
Deleted files and deceased documents are rising from the dead thanks to the launch of ParetoLogic's new Data Recovery software.
The leaders in online safety have built a product to alleviate the anxiety that can occur when important files have gone missing. The powerful software can retrieve almost anything that was thought to be long gone in the dark recesses of a computer hard drive.
Data Recovery and Data Recovery Pro can recover a wide variety of file types, including recycled, encrypted and compressed. The files are saved to a selected destination, and avoid taking up valuable hard drive space.
ParetoLogic's Chief Operating Officer and Co-Founder, Don Wharton, speaks to the uniqueness of the new products.
"We understand the stress that can be caused when your files seemingly vanish. I'm sure it's happened to everyone. We wanted to develop a powerful tool that was able to retrieve anything that was lost, and at the same time leave a small footprint on your hard drive so not to bog down your computer. And I think that's exactly what our team has accomplished with Data Recovery and Data Recovery Pro."
Recognizing that computers are a part of our everyday lives, whether it is for business, school, or personal use, ParetoLogic's talented team has gone to every extreme to make sure that they created a product that is able to bring back to life almost any file that has gone missing.
ParetoLogic Data Recovery Pro goes even one step beyond by recovering deleted email and email attachment files. As well, ParetoLogic Data Recovery Pro can retrieve partial files due to bad sectors. It can also recover files from freshly formatted or partitioned devices.
The easy to use software does not require advanced computer knowledge and enables users to detect and recover deleted files themselves while avoiding the high cost of recovery by computer technicians.
About ParetoLogic:
In 2004 four brothers recognized that modern computer users need not rely on computer repair technicians to maintain their own PC's. Knowing that sophisticated technology married with a truly user-friendly interface would empower people to secure and optimize their own computers, the brothers researched the marketplace to define and develop the software products that would most benefit today's computer user.
ParetoLogic now employs 105 professionals to help them research, develop, and market software applications that will enable people to secure and enhance their computing experience. Available in eight languages in 186 countries around the world, ParetoLogic has established partnerships on a global scale to ensure that its products are available to all computer users, regardless of location, language or computing experience.
Attention to the needs of the consumer coupled with a commitment to delivering exceptional software applications and resource-rich websites guarantee that our products will exceed your expectations.
# # #